This article is more than 1 year old
Apple hauls in $52.6bn in Q4, iPhone, iPad and Mac sales all up
Peak Apple? With 37 per cent margins and $268bn cash, let us all have such peaks!
Apple's coined it for another quarter.
Cupertino on Thursday US time revealed fourth quarter revenue of US$52.6 billion, up a dozen per cent compared to Q4 in 2016. 46 million iPhones accounted for $28.8bn, 10.3 million iPads generated $4.8bn and 5.4m Macintosh computers brought in $7.1bn.
On the company's earnings call, CEO Tim Cook lauded the company's highest-ever services result, an $8.5bn haul that came from 210 million paying subscribers, up 25 million in this quarter alone. That result, Cook said, suggests Apple is on track to meet its target of doubling services by 2020. It's already a $30bn business, which would put it handily in the Fortune 100.
Gross margin was 37.9 per cent, operating margin was 25 per cent of revenue and net income was $10.7bn.
Cook told investors that the Mac had its best-ever full year for revenue, at $25.8bn and, and enjoyed a ten per cent sales bump by units compared to Q4 2016. The CEO told investors [Reg-walled transcript - Ed] that strong Mac sales came in part from successful back-to-school promotions, an effort analyst firm Gartner recently assessed as mostly having failed. Enterprises also bought more Macs than ever, Cook said.
iPad sales also grew, with the 10.3 million units moved an increase of 11 per cent compared to the same period last year.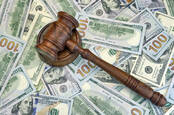 Qualcomm sues Apple for allegedly blabbing smartphone chip secrets in emails CC'd to Intel
READ MORE
iPhone sales grew only three percent, but Cook pointed to double-digit growth in "China, the Middle East, Central and Eastern Europe, India and Mexico."
The Register can also report that Apple Store queues have returned, for the iPhone X. The suburban Apple Store we visit for each launch had perhaps 250 people queueing this morning, down from rather larger lines in years past but far better than the 30-odd people who showed up for the iPhone 7.
Apple always keeps its cards close to its chest, but Cook hinted at growing importance for augmented reality (AR).
"The reason I'm so excited about AR is I view that it amplifies human performance instead of isolates humans," he said. "And so as you know, it's the mix of the virtual and the physical world and so it should be a help for humanity, not an isolation kind of thing for humanity."
"As I go through different countries as I've been traveling lately, and looking at some things in the market, other things that are coming, the very cool thing is they're all over the place. I see things that the consumer's going to love because it's going to change shopping. I see things that consumers will love on the gaming side and the entertainment side. I see business-related AR apps as well. They're going to be great for productivity and between small and large business."
Full year numbers swell cash pile
The company's Consolidated Statement of Operations (PDF) also records annual results. The numbers are huge: net sales of $229.2bn, gross margin of $88.2bn. The company has $268.9bn of cash and marketable securities to hand, 94 per cent of which is outside the USA.
Apple's Q1 guidance is for revenue of $84 billion to $87 billion, with festive sales and the iPhoneX expected to boost revenue. The company's share price jumped one per cent on news of its results. ®