Isilon-owning Dell has sealed a deal with Isilon competitor Elastifile to supply the Israeli startup's software, meaning its server agents, Cloud File System and CloudConnect data moving software come bundled with Dell PowerEdge servers.
Elastifile's pitch is to have files stored and accessed on-premises from a scale-out, all-flash appliance, which can move files to the public cloud, storing them in object format, with files in both locations accessible in a global namespace – flash and trash, as it's been called.
The hardware side has two kinds of all-flash PowerEdge server nodes: performance and capacity models. The chart below shows the basics.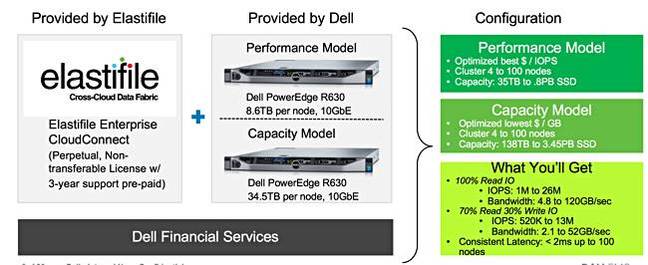 Click to enlarge
The performance model features from 1 million to 26 million IOPS with from 4.8GB/sec to 120GB/sec bandwidth. The capacity model starts at 138TB and goes out to 3.5PB.
We asked Elastifile co-founder and CTO Shahar Frank about the differences between models and nodes. He said: "Model means configuration flavour. We have ​a performance model optimised in terms of $/IOPS ​($0.13/IOPS expected ASP) ​and ​capacity model optimised in terms of $/GB ​($2/GB raw expected ASPs – before full data reduction benefits)​.​
"Customers can elastically build out clusters of these appliance nodes, increasing both capacity and performance linearly as the need more​. The minimum nodes per system [cluster], regardless the model is 4, and the max ​currently supported (tested/QA limit only) ​is 100 nodes.​"
The Performance model's 1 million IOPS is explained thus: "The 1 million IOPS refers to the minimal performance system – i.e. four nodes." A single node outputs ~250K IOPS.
The raw capacity of a performance node is 8.6TB​. Each ​capacity node is 34.5TB raw. The minimum four-node cluster has 138TB raw.
We asked about the IOPS range for a capacity node. Frank said: "The same as the performance node, but using much more devices and hence much more capacity to reach it. So in terms of IOPS/GB is it significantly less performant."
Is the two-socket PowerEdge R640 server used?
"We are using the PowerEdge R630 two-socket model. We have plans to use the R640 when it will be widely available."
The software and cloud environment looks like this: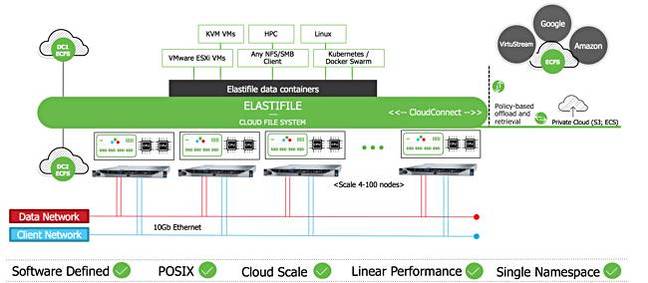 Click to enlarge
Note there is no Azure support.
Market and pricing
Marketing VP Andy Fenselau said: "The per-node appliance list pricing​ ​is currently $99,895 for the capacity model and $49,421 for the performance model. Since this is sold through Dell, final street pricing will vary, but we expect some extremely competitive ASP metrics with $0.13/IOPS and $2/GB raw for capacity."
Elastifile says the market for this appliance is the broad spectrum of enterprise and service provider workloads which need the public cloud attributes of elastic scale-out performance, efficiency, manageability, and cost.
Further it is an on-premises and hybrid cloud offering for mixed-workload consolidation and infrastructure modernisation, high-performance NAS for stateful containers and HPC use cases like life sciences, electronic design automation, media and entertainment, and more.
We understand Elastifile can supply either hyperconverged systems or storage servers. Which is it doing in this case?
Fenselau said: "These appliances ​are focused on the Dedicated Storage Mode configurations​, which simplifies the processes for both the factory and the customer deployments. It really is intended to be the 'Easy Button' for our joint customers to get a cloud-like elastic scale-out storage and data fabric."
Elastifile, Isilon and selling the appliance
How would Dell characterise this deal in light of having its own scale-out NAS product and technology through Isilon?
Spokesperson Kevin Kempskie said: "While this is a great example of how the Dell EMC OEM program helps empower other solutions with our market-leading PowerEdge Server platform, from a go-to-market standpoint, this is purely fulfilment just like any other OEM customer we contract with.
"This is not a sales or GTM relationship. When it comes to what products Dell EMC promotes and sells, there is no confusion in what we're selling and what we're leading with which is Dell EMC Isilon and ECS for scale-out file and object use cases."
In its release Elastifile states: "Developed in collaboration with Dell EMC OEM Solutions, the offering... can be purchased through Dell Sales and partners worldwide."
Fenselau said: "Our primary route to market is the channel, both traditional value-added resellers and service providers. With this, we can also sell through the Dell EMC sales teams and channels, where they will get full server sales credit (commission etc.) ​for our appliance.​"
It doesn't sound as if Dell EMC is "that" enthusiastic about selling it, though, with the arrangement being described as "purely fulfilment".
This Dell/Elastifile appliance includes an Elastifile licence with three years of support pre-paid. Service, hardware support and expansion on demand are provided by Dell EMC. But Elastifile provides the software support, making this a not-quite OEM deal. ®