SPONSORED With the accelerations in cloud computing and server virtualizations and changes in layouts, IT devices are required to handle multiple integrations instead of just a single application. Enterprise demand shorter wait times and higher availability. This in turn means enterprise IT systems must be able to reduce transactional response times and job query times while enhancing concurrent processing capabilities.
A growing number of users are paying more attention to efficiency improvements with the right IT system because those wanting to stay ahead must always be looking for ways to improve performance. Common approaches include adding more servers or enhancing the configuration, often bringing the load on servers to 10% or less. All these types of measures are aimed at strengthening the servers in the mix to assure enough performance for mission-critical applications and databases. However, these approaches lead to overkill in computing capacity in comparison to the storage layout in most user environments. Making matters worse, performance bottlenecks remain unresolved.
As service pressures grow, so do the number of IOs the storage system must process. A key to supporting rapid application response is ensuring latency remains low and predictable even when IOPS enters the million range.
The Storage Performance Council is a vendor neutral organisation which tests and ranks storage products against agreed criteria which reveal true and accurate performance and energy use.
In its mission statement it says: "The Storage Performance Council (SPC) is a not profit corporation founded to define, standardize, and promote storage subsystem benchmarks as well as to disseminate objective, verifiable performance data to the computer industry and its customers."
The stated objective of the SPC is to serve as a catalyst for the improvement of storage products.
To achieve this it has developed a set of industry-standard storage benchmarks against which products are tested in environments where business workload conditions are replicated.
The validity of the benchmarks is based on the utilisation of I/O workloads in these 'real world' tests where online transaction processing and sequential application performance is measured. The results reveal the behaviour of storage products and components.
The SPC is a membership organisation and members collaborate to create the benchmark standards. Full members can join technical subcommittees as well as serve on SPC standing committees and help create the benchmarks.
Over decades the SPC has developed a whole portfolio of benchmark specifications under which products, components and full storage configurations are tested for performance, price performance and energy use. The SPC-1 benchmark is designed to be vendor/platform independent and applies across a broad range of storage configuration and topologies.
High performance and high reliability are key specifications for a storage system. Huawei remains committed to providing higher performance, more reliable storage products to its customers who face application environments that grow more challenging every day.
From 2010 to the present, the Huawei OceanStor storage system has been a continuous participant in SPC verification and set a string of new benchmark records.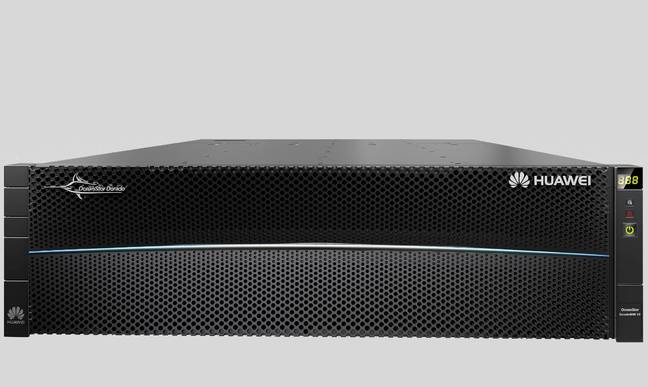 As an SPC member Huawei submitted its benchmark results under SPC-1 Version 3.4 for its Enterprise Class All Flash OceanStor Dorado6000 V3 on June 5th 2017. The results showed the OceanStor Dorado6000 V3 can deliver in excess of 1 million IOPS with a response time of less than 0.4 ms.
In ranking terms (the SPC has a top ten for IOPs performance) The OceanStor Dorado6000 V3's 1,000,560 IOPS . These indicators can meet the requirements of the enterprise's critical applications.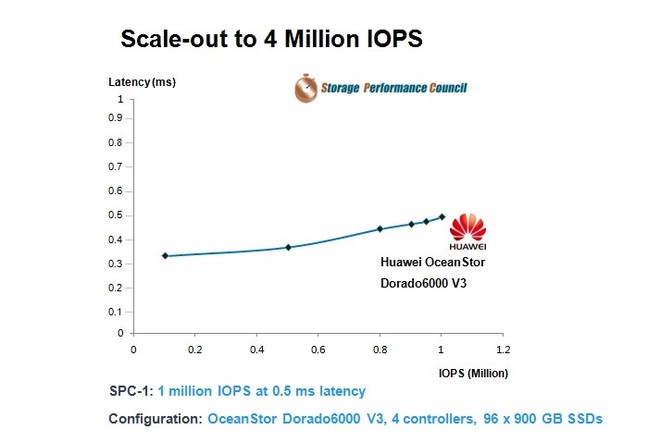 The benchmark for the OceanStor Dorado6000 V3 returned the following results:
SPC-1 IOPS 1,000,560
SPC-1 Price-Performance $0.46/SPC-1 IOPS
SPC-1 IOPS Response Time 0.472 ms
SPC-1 Overall Response Time 0.380 ms
SPC-1 ASU Capacity 36,078 GB
SPC-1 ASU Price $12.59/GB SPC-1
Total System Price $453,882.94
Data Protection Level Protected 2 (RAID-5 and full redundancy)
Physical Storage Capacity 89,402 GB
Pricing Currency / Target Country U.S. Dollars / USA
The tested OceanStor Dorado6000 V3 system consisted of:
4 x OceanStor Dorado6000 V3 Active-Active Controllers
512GB cache per controller (2048 GB total)
16 x 4-port 8Gbps Smart 1/0 Modules
4 x 4-port 12Gbps SAD 1/0 Modules
4 x 2-port PCIe Interface Board
2x 16-port PCIe switches
4 x 2U enclosures
100 x 900 GB SSDs
32 x QLogic dual-ported QLE2562 FC HBA
"SPC-1 consists of a single workload designed to demonstrate the performance of a storage subsystem while performing the typical functions of business critical applications. Those applications are characterized by predominately random I/O operations and require both queries as well as update operations. Examples of those types of applications include OLTP, database operations, and mail server implementations," says the SPC.
SPC-1 Version 3 which tests I/O performance is a new implementation of the SPC-1. The new release retains the core capabilities and requirements of SPC-1 version 1, but includes support for data deduplication, and data compression, and Version 3 added refinements to the workload attributes to bring the benchmark more in-line with modern storage system workloads.
All results are subject to review and the process begins when benchmark results are submitted by the sponsor, usually the manufacturer to the SPC. They then enter what is known as active status and are available for revision. The submitted benchmark results are then peer reviewed for compliance (see details below).
Any vendor member can sponsor and publish an SPC-1 benchmark result, provided their tested configuration satisfies the requirements of the SPC-1 benchmark specification.
What is tested and how the process works is key to SPC benchmarks retaining their recognised validity.
What is tested is what the SPC calls the Tested Storage Configuration (TSP)
This is all of the storage hardware and software used to produce a SPC Result. This will consist of all devices, controllers/adapters, enclosures, storage software. It represents a complete storage solution.
What the solution consists of is the Tested Storage Product. The TSP must be a customer orderable storage product, which is the focal point of a SPC Result.
Each SPC Result is marked with the formal name of the TSP. The TSC and the TSP may be identical so the TSP would include all of the storage hardware and software as a single customer orderable storage product.
In other cases, the TSP may be a component of the Tested Storage Configuration such as a storage software product. In such cases, the Tested Storage Configuration consists of multiple, distinct customer orderable products including the TSP.
In this test the priced storage configuration components were:
32 x QLogic dual-ported QLE2562 FC HBA
4 x OceanStor Dorado6000 V3 Active-Active Controllers, each with: 512 GB cache (2048 GB total)
4 x 4-port 8Gbps Smart I/O Modules
1 x 4-port 12Gbps SAS I/O Modules
1 x 2-port 8Gbps PCIe Interface Board
4 x 2U disk enclosures, each with: 25 x 900 GB SSD (100 total)
2 x 16-port PCIe switches
The process for a submitted benchmark measurement becoming a new SPC Result is based on successful completion of the required SPC Audit and SPC submission process.
Any new SPC Result is initially given a 'submitted for review status' over a 60 day period during which the SPC peer review occurs. The revison allows SPC members an opportunity to review the details of the SPC benchmark result and raise any compliance issues resulting from that review.
When completed and where there are no compliance issues raised the status of the SPC Result transitions to Accepted. And should any compliance issues be raised during the peer review but the benchmark result is found to be compliant with the appropriate SPC specification, the status will also move to Accepted. There is also a revision process if any non compliance issues are found.
The SPC says: "The SPC benchmark portfolio provides a rigorous, audited and reliable means to produce comparative storage performance, price-performance and energy use data, which is used to develop and evaluate storage products, which range from individual components to complex, distributed storage configurations."
The results for the OceanStor Dorado6000 V3 were the first from the latest range of Huawei's OceanStor Dorado family of All Flash Arrays announced earlier this year.
The full disclosure document submitted by Huawei to the SPC is available here.
SPONSORED BY: Huawei