Subsidy-guzzling Tesla's Model 3 volumes a huge problem – Wall St man
Virtue-signalling virility symbols don't come cheap
Stocks sleuth Toni Sacconaghi Jr. has shed some light on why the market reacted badly to Tesla Inc's financials this week.
The protracted launch of the Model 3 sedan, unveiled 18 months ago, has already seen Tesla's stock repeatedly bashed. Founder Elon Musk boldly predicted that the company would sell 100,000 Model 3s this year, but it had managed delivery of just 222 by October.
One report suggests the Model 3s are being finished by hand. Musk admitted last month that the Model 3 was in "production hell".
Demand isn't the problem, Sacconaghi noted – that appears to be strong. The analyst is sceptical that Tesla can build the Model 3 in volume at the gross margins it wants, without sacrificing quality.
Tesla is ultimately aiming at 30 per cent margins and its executives are compensated if margins hit that figure. But management has warned Wall Street to expect 15 per cent going forward, before the figure would recover. The current numbers suggest a gross margin of 18.7 per cent and it's heading south.
"It is unclear to us whether labor and material for the car will ultimately allow for a 25 per cent gross margin, which Tesla executives reaffirmed as a target... stating that it would likely be achieved following the first full quarter of 5000+ cars per week production. We continue to be skeptical of this bogey, irrespective of volume," Sacconaghi explained in a research note sent to The Reg.
The company said it wants to be pushing out 5,000 units per week by the end of calendar Q1.
"Tesla's Q3 results reinforce our concerns about Model 3's ramp and profitability, as well as our concerns on sustainable demand and margin levels for S and X. With Tesla's cash drain growing and production and GM visibility low, we see TSLA as a show me story, and see near-term risk reward as neutral to somewhat unfavorable," Sacconaghi concluded.
That's not all.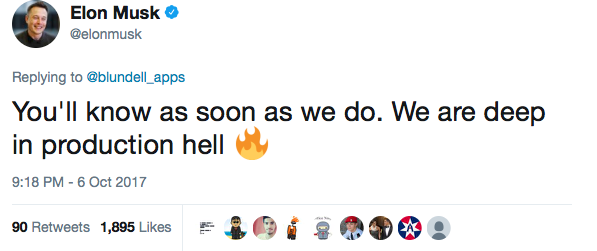 His sums suggested an Osborne Effect as sales of the older Model X and Model S motors remained soft, with Tesla's implied inventory now exceeding 12,000 units. Sacconaghi's research pointed to seven separate post-June indicators of Tesla attempting to revive demand, including discounts.
Subsidy Guzzler
Bernstein noted that "changes in government incentives" are a risk to the company going forward. The American taxpayer has effectively paid for Tesla to make cars.
"The libertarians in Musk's fan club seem willing to overlook his chummy relationship with Uncle Sam," progressive magazine Mother Jones noted in 2013.
The subsidy-guzzler is uniquely vulnerable here since it has only produced electric cars. Some of these are subtle: the ZEV credits mean other car owners pay for up to $20,000 of a Tesla's cost, while the company pockets additional credits from the battery programme.
"Every time a Tesla is sold, we witness a transfer of wealth to a rich hobbyist (most Teslas are their owners' third or fourth car), while average Americans are on the hook for at least $30,000 in federal and state subsidies. Tesla is more a regulatory arbitrageur than an auto manufacturer," concluded another critic.
With California in a perpetual budget crisis, the case for subsidising these virtue-signalling virility symbols is becoming harder to justify. ®