'Qualcomm, we will buy you... for... one HUNDRED... BILLION DOLLARS' – Broadcom
And Marvell and Cavium also hopping into bed, allegedly
Broadcom is channeling Dr Evil of Austin Powers fame, and considering blowing more than $100bn to buy Qualcomm, it was claimed on Friday.
Apparently, Broadcom is planning to offer within the next few days about $70 a share in cash and stocks to acquire California-based Qualy. Right now, Qualcomm's shares stand at $62.71 apiece, up from $55 just before Bloomberg and the Wall Street Journal whispered of the looming biz gobble a few hours ago. In mid-2014, Qualcomm's stock hit $80, so an offer of $70 looks a little tight.
Broadcom and Qualcomm spokespeople declined to comment on today's rumors. Broadcom's shares remained steady at about $272 each.
Both organizations are designers of wireless communications and system-on-chip processors used in smartphones, tablets, and other gadgets and gizmos worldwide. Qualcomm is probably best known for its Snapdragon family of components, used in hundreds of millions of Android handsets, while Broadcom busts out, among other things, chips for networking gear, and the ARM-compatible system-on-chip that powers the Raspberry Pi.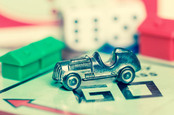 US watchdog sues Qualcomm for 'bribing' Apple to swallow chips
READ MORE
Interestingly, Broadcom once had dreams of designing ARM-based server CPUs, dubbed Vulcan, but last year thought it logical to axe that project. Meanwhile, Qualcomm is getting ready to ship its first data-center-class processor, the Centriq 2400, after shifting its focus to the fledgling architecture from its Snapdragon design work.
Both companies are powerhouses in the world of embedded engineering – an industry rebranded to the much more trendy-sounding Internet of Things – and specialize in lobbing ARM-based cores and custom-designed GPUs into silicon that drives phones, fondleslabs, routers, and more. They appear to be a match made in heaven.
Except for the fact that Qualcomm is in the middle of buying chipmaker NXP for $47bn, and is locked in endless battles with Apple and the iGiant's suppliers – as well as the US government and previously the Chinese authorities – over its, er, unique approach to technology patent licensing. Any marriage with Broadcom would be rather rocky, judging from these ongoing legal wars and the effects they've had on Qualcomm's bottom line.
Broadcom is headquartered in Irvine, California, and is owned by Singapore-based Avago Technologies, which bought the chip architects in 2016 for $37bn, the same year Broadcom offloaded a bunch of its wireless technologies as well as ended its data-center processor plans. Avago, these days known as Broadcom Limited following the merger, needs to make up its mind: does it want more wireless and server stuff, or not? Because it's going to get a load of that – along with Qualcomm's cellular communications patent war chest, of course – if it successfully makes a bid for Qualy.
Finally, in other M&A rumor news – and it wouldn't be a Friday afternoon in the Valley without a sudden last-minute explosion in acquisition speculation – electronics giant Marvell is close to swallowing ARM server processor designer Cavium to create a $14bn silicon-touting monster, apparently. ®