Following the murder-suicide of 26 people in church on Sunday by Texas gunman Devin Kelley, ad giant Google managed to shoot itself in the foot by promoting fake news about the 26-year-old.
As countless internet users noticed Monday morning, a search for the gunman's name on Google brought up a special "carousel" of tweets just below the news "carousel" and above search results.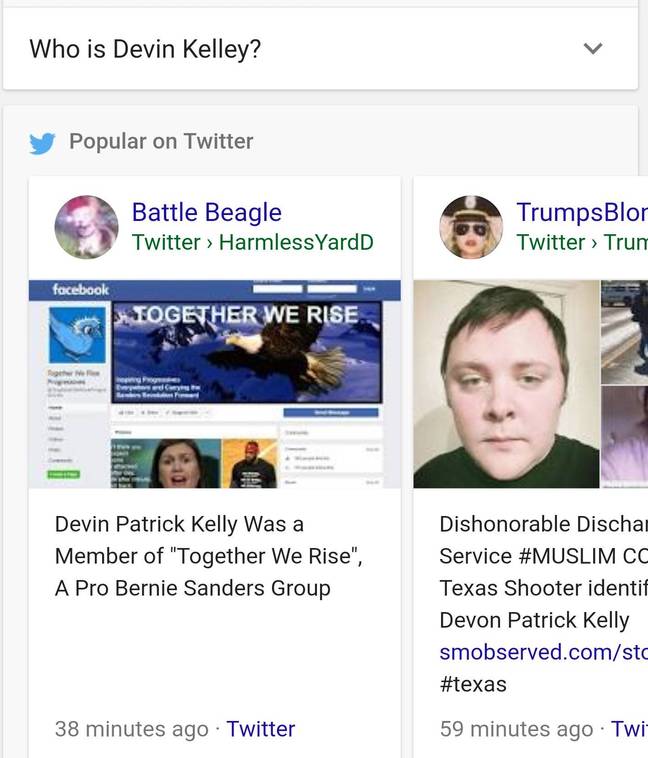 All the news that's fit to stink ... Fake claims appearing near the top of Google search results for Texas gun murder (Click to enlarge)
Unfortunately, the Twitter "news" comprised largely of wild misinformation, including the claims that Kelley was a member of the antifascist movement, a member of a Bernie Sanders political group, that he was a Muslim convert, that he supported Hillary Clinton, and so on.
Coming just days after representatives from Twitter, Google and Facebook were lambasted at a congressional hearing for their role in promoting fake news during the US presidential election, the front-page promotion of false and divisive stories is a stunning own goal by the tech giants.
That Twitter is an unfiltered sewer of information is one thing. But things like the active promotion of the worst parts of it in a primetime slot on a massively used search engine is what has led some US lawmakers to believe the time has come to start regulating social media and to start considering Facebook, Twitter and Google as equivalent to publishers, rather than passive relayers of others' information.
That Google pushed Twitter's detritus on its homepage is bad enough. The company's subsequent response made matters worse.
Moving fast
Displaying the passive-aggressive attitude that Silicon Valley goliaths have been renowned for, a Google spokesperson said: "The search results appearing from Twitter, which surface based on our ranking algorithms, are changing second by second and represent a dynamic conversation that is going on in near real-time.
"For the queries in question, they are not the first results we show on the page. Instead, they appear after news sources, including our Top Stories carousel which we have been constantly updating. We'll continue to look at ways to improve how we rank tweets that appear in search."
Google's argument – when faced with the fact that it is actively promoting false information at a critical and sensitive time – is basically: well, you only see it for a little bit.
Which demonstrates that despite everyone warning Google et al about the powerful impact that their platforms have, the biz is still refusing to accept its responsibilities and obligations as a de facto publisher.
Just imagine if the New York Times or CNN or, hell, El Reg ran articles or short pieces in which it pushed, unquestioned, wildly inaccurate information from random internet strangers, then pulled them, arguing: well, you only saw them briefly.
Google's second argument that the misinformation appeared underneath a news carousel and so is somehow less relevant is equally baffling.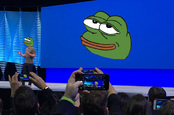 For Facebook, ignorance is the business model: Social net is shocked – SHOCKED – that people behave badly
READ MORE
Last week, Facebook denied that its ads have any real impact to a congressional hearing looking into the 150 million Americans that saw dodgy Kremlin-sponsored ads during the White House race. But at the same time the social network approaches companies all over the world to sell them on how powerful those exact same ads are and why they should use its advertising platform.
Likewise, Google makes billions from getting organizations onto its front page. The entire company is built on that online real estate. The false information Twitter carousel is in a spot that it worth literally millions and millions of dollars because of its impact. It comes above the actual service that Google supplies – search results. For Google to diminish the impact of the box of fake information is to ignore its entire business model.
Not just this
It's also worth noting that a search on the gunman's name on Google-owned YouTube revealed more misinformation – with the exact same false claims about him being a muslim, a supporter of left-wing candidates and so on – reported in quickly produced videos.
While Google and Twitter and Facebook continue to believe that everyone will allow them to promote damaging false information just so long as they assure us they are trying really hard to fix things ("We'll continue to look at ways to improve how we rank tweets that appear in search"), the truth is for many that ship has already sailed.
The cloud of aggressive, partisan misinformation, gaslighting and outright lies is already suffocating American society. And the tech giants are sitting at the wheel, revving the engine. For how long though remains to be seen. ®