Just before the weekend, the Internet Association quietly dropped its objections to the proposed Stop Enabling Sex Traffickers Act (SESTA) which is making its way through US Congress – after fighting against the draft legislation for months.
SESTA was introduced to the Senate in August, and amends section 230 of the Communications Decency Act to make it possible to sue providers to take down websites and webpages run by human-trafficking gangs. Right now, section 230 clears internet hosts of responsibility for all user-generated content.
The proposed bipartisan law had online rights groups as well as the Internet Association – which represents Google, Facebook, Microsoft, Twitter, Amazon, and so on – fearing the shakeup will allow censorship in through the backdoor. Not all tech firms opposed the scrapping of protections: Oracle and HP notably stood by it.
An amendment to the law, introduced on Friday afternoon, won the rest of the tech goliaths over.
"Internet Association is committed to combating sexual exploitation and sex trafficking online and supports SESTA," said the group, effectively confirming Google, Microsoft, Facebook, Twitter et al, are happy with the proposed law as it now stands.
"Important changes made to SESTA will grant victims the ability to secure the justice they deserve, allow internet platforms to continue their work combating human trafficking, and protect good actors in the ecosystem. We look forward to working with the House and Senate as SESTA moves through the legislative process to ensure that our members are able to continue their work to fight exploitation."
The amendment is fairly small. The language of the draft bill was tweaked to say a provider must be "knowingly" assisting in trafficking operations to lose its section 230 immunity. In other words, under this amended law, if you ask an online host to take a page down because it's being used to facilitate human trafficking, and the provider refuses, you can go to court and argue the biz is knowingly supporting the trade and thus must lose its section 230 immunity.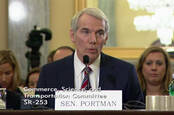 Congress battles Silicon Valley over upcoming US sex trafficking law
READ MORE
The legislation was primarily set up to be used against sites like Backpage.com, which became notorious for carrying adverts from sex workers who were suspected of being forced into selling themselves to punters. The cops claimed legislation like SESTA was needed to shut down these dodgy adverts.
The problem for some is that SESTA could be used to sue small web upstarts over content they had no idea was there, because they can't hire staff to check every user-generated post. Under the amendment, smaller organizations can at least get a chance to respond to complaints of pages involving human trafficking before being dragged into court. And the larger businesses, such as Google and Facebook, should, you'd think, have the resources in place to police their social networks and search results accordingly anyway.
The rights warriors at the EFF see different, arguing the proposed law is not up to scratch, may make things worse, and is tantamount to censorship.
"Again and again and again, experts in sex trafficking have spoken out to say that SESTA is the wrong solution, that it will put trafficking victims in more danger, that it will remove the very tools that law enforcement uses to rescue victims," said Elliot Harmon at the EFF.
"It's shameful that a small group of lobbyists with an agenda of censorship have presented themselves to lawmakers as the unanimous experts in sex trafficking. It's embarrassing that it's worked so well."
The truth of the matter is more complex. There is plenty of evidence that sex workers, regardless of their situation, are much safer arranging assignations online rather than walking the streets looking for custom. There is also clear evidence that some sites have been allowing the advertising of trafficking victims, and that shutting down online advertising may deter criminal gangs from stealing people for sex work.
It may also be the case that the technology industry is picking its battles more carefully after US Congress raked them over the coals last week in congressional hearings into Russian involvement in elections. Under the circumstances they may have decided that discretion is the better part of valor. ®