Splitting off Google Shopping wouldn't fix the pay-to-play problem
Underdogs fail to see how that's a competition 'remedy'
---
As the European Commission mulls Google's own remedy to its anti-competitive behaviour on the web, the former startup behind the original complaint has warned of possible consequences.
Foundem was destroyed by Google's promotion of its own Google Shopping – which doesn't offer customers the best deal, but is another pay-for-placement ad channel, a shop window.
The European Commission already found that Alphabet is guilty of infringing Article 102 of the Treaty on the Functioning of the European Union by introducing this, but spent years stalling a formal decision in the hope Google would reform.
Faced with a record fine, Google is now invited to come up with its own solution that should, we learn from a tender document, create a level playing field.
Any measure chosen by Google must, however, ensure that it treats competing comparison shopping services no less favourably than its own comparison shopping service within its general search results pages. The above-mentioned principles should apply irrespective of whether Google chooses to display a Shopping Unit3 or another equivalent form of grouping of links to or search results from comparison shopping services.
Surprisingly the pay-for-placement (aka "pay to play") solution is back on the table, already proposed three times during former competition commissioner Joaquín Almunia's tenure. And apparently it's finding favour.
Here are the options.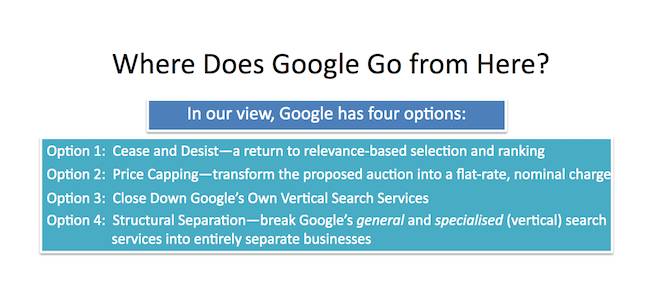 A Cease and Desist solution would mean that results from bona fide vertical search companies would appear in the search results. Foundem says Google is lobbying furiously to avoid this.
A second option would be a capped auction. Prospective sellers would still need to pay Google to appear, but the amount would be capped at a nominal cost-recoupment level. This might qualify as "equal treatment". It's the closest to the randomised "browser ballot" imposed on Microsoft for abusing its Windows monopoly to promote Internet Explorer.
Google also has the options to close down Google Shopping, or split it off into a separate company. So Google Search Inc. would operate independently of Alphabet. Both of these are called "structural" remedies. Three years ago the Parliament, in a political shot across the bow of the Commission, voted to break up Google.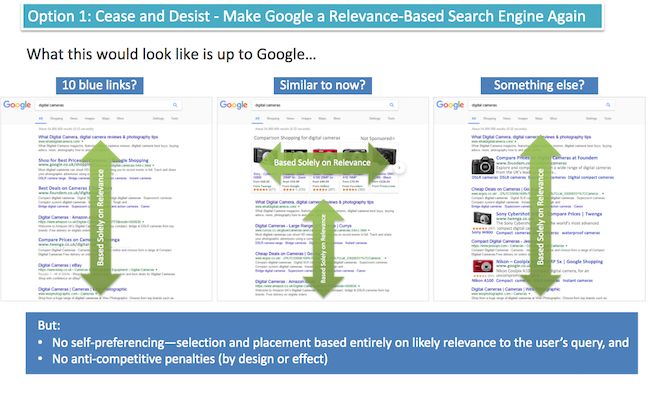 But Foundem isn't keen.
"It would be horrible for consumers," Shivaun Raff told The Register. "Consumers would still be getting pay-for-placement ads, not proper price comparison engines. Real price comparison engines present the item with the lowest price – and they wouldn't be able to compete."
Last week a French comparison site said it couldn't take part.
"It doesn't work for us: how could we bid on a system that will cost us a lot more than what we make on a sale? We cannot bid without changing the philosophy of our website," an executive told Bloomberg.
Raff thinks that ultimately Google benefits from being seen to play fair – and not bet with the house's money.
"If Google ignores this opportunity for a don't-be-evil reset, and instead carries on with its greed-fuelled pretence that pay-for-placement ads and relevance-based search results are interchangeable, this could even make the beginning of the end for Google," Foundem concludes.
In 2001 Alphabet CEO Larry Page said that Google would win more users if it was trustworthy. Turning search results into another ad channel makes it less so.
"We believe that advertising and editorial should be split. We do the best job we can with computers and such to give you the best search result content. We don't do pay for placement," said Page.
Sounds like another era. ®