China-owned Opera touts big comeback
Just browsing? Don't yuan
Opera released an overhaul of its browser today, and claims to have grown its market share substantially in the year since it was acquired by a Chinese private equity company a year ago.
Monthly active users have increased 25 per cent in 2017, Opera says, with the UK 50 per cent up year-on-year. The browser received a makeover in February and now integrates Facebook Messenger and WhatsApp in the sidebar. It continues to feature a built-in adblocker and a limited selection of third-party extensions.
Opera began life in 1994 and maintained a tight codebase – including its own rendering engine and built-in email – and pioneered many features widely copied by rivals, such as tabs, gestures and proxy-based browsing via Opera Mini. But after founder Jon von Tetzchner left the company, Opera focused increasingly on its advertising business.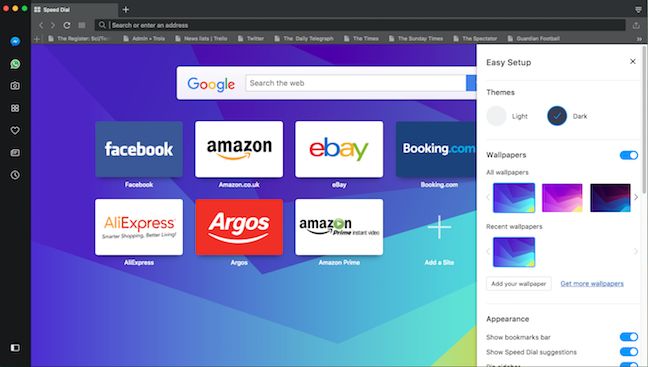 Opera now has a dark theme
After neglecting the browser codebase, the company opted to cut costs and skin Chrome instead in 2013. Development was pared back and largely moved to Poland. Von Tetzchner has subsequently launched Vivaldi, also a Chrome-based browser but much more in the spirit of the original Opera.
We found "Version 49.0" to be relatively compact and fast, although it falls short of Vivaldi for customisation and features. Last year Opera contributed power management code to the Chromium open-source project. Some visual features from the Neon experiment have been folded back into the desktop version.
Golden Brick capital completed the acquisition a year ago. Its website explains: "The Group is focused on investments in China, Russia and other countries and regions of 'One belt, One Road' area to maximize return for investors and meanwhile dedicate to the national strategy and economic development." ®