This article is more than 1 year old
Qualcomm is shipping next chip it'll perhaps get sued for: ARM server processor Centriq 2400
Microsoft, Google keen to use CPUs and push Intel Outside
Putting aside its legal battles and lawsuits for a few hours, Qualcomm today said is it shipping the Centriq 2400 – its ARM-based server-grade processor, and the world's first 10nm data-center CPU.
"This chip is now shipping for revenue," said Anand Chandrasekher, the boss of Qualcomm Datacenter Technologies, adding that the silicon is likely to be deployed in production by customers over the next 12 months.
Previous ARM-compatible server CPUs have failed, notably the Calxeda parts, because, basically, they were 32-bit. Qualcomm's Centriq is, crucially, 64-bit as well as ARMv8-A compatible, multicore, draws up to just 120W, has suitably fat caches, and server-friendly IO and memory interfaces, and is aimed at data-center workloads. It took more than four years to produce, we're told.
It's aimed at single-socket cloud servers and cloud builders: think Azure, Google, Tencent, Baidu, Alibaba, and so on. Microsoft and Google have, off the top of our head, publicly expressed a desire to power its cloud platforms using Qualcomm-designed silicon to break free from Intel and its price gouging.
Certainly Google, which buys chips by the boatload, is seemingly eager to deploy anything-but-Intel in its warehouses of computers, which should at least leave Chipzilla a little worried.
"Google is excited to see Qualcomm Datacenter Technologies launch the Qualcomm Centriq 2400 processor," Bart Sano, veep of platforms at the ads giant, said. "We welcome choice in the processor design space for data centers. Choice leads to innovation which ultimately benefits our users. The 64-bit ARMv8-A architecture and ecosystem is now a viable alternative for scale-out data center designs."
Microsoft is also enthusiastic... in sending a coded message to Intel.
"Qualcomm Centriq 2400 is well suited for highly parallelized workloads like those found in hyper-scale clouds," said Mike Neil, corporate veep of Azure Infrastructure and Management at Microsoft. "We believe that Qualcomm Datacenter Technologies has the ability to deliver extremely compelling performance per watt and total cost of ownership."
Azure, we're told, could end up using Centriq in cloud storage and Bing search systems among other infrastructure things.
We've covered the Centriq in depth, here, where we also revealed that Qualcomm had moved engineers from its Snapdragon mobile side to the data-center chip team to complete the designs, signaling a seismic shift in focus for the business. Our colleagues at our sister site, The Next Platform, have also detailed the Centriq architecture here and here. The processor's goal is to be high performance and power efficient.
Here's a quick summary, though, of the specifications, according to Qualcomm:
Fabricated using Samsung's 10nm FinFET process with 18 billion transistors on a 398mm2 die in a system-on-chip package.
Up to 48 single-thread cores running at 2.2GHz, peaking to 2.6GHz. It is 64-bit-only: there is no 32-bit mode.
The cores are connected internally on a bidirectional ring bus with an aggregate bandwidth of 250GBps.
512KB of shared L2 cache for every core pair on the bus.
60MB of unified L3 cache spread out along the ring interconnect.
Six DDR4 RAM channels that can interface up to 768GB of memory per processor.
32 PCIe gen-3 lanes and six controllers.
ARM TrustZone for secure boot.
A power draw of up to 120 watts.
A $1,995 price tag for the 48-core part.
The announcement of shipments effectively means another player has entered the game in the data center world to elbow Intel into remaining competitive and to keep it honest.
Intel has close to 100 per cent of the server processor market, worldwide, with AMD's Epyc, and silicon from the likes of IBM and Oracle, a rounding error. Qualcomm execs would be, we imagine, really, really happy with five or ten per cent of that market, initially. Samples of the Centriq 2400 were shared with curious customers earlier this year.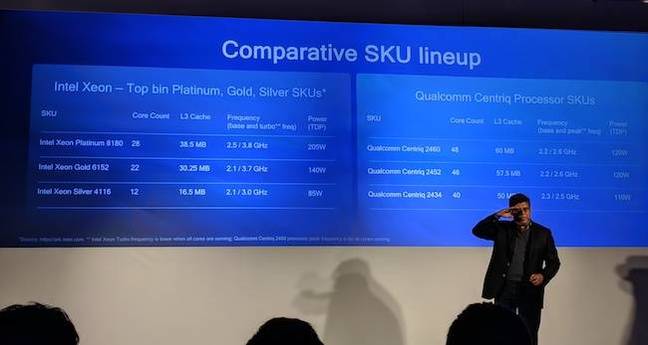 Comparison ... Chandrasekher shows the Centriq SKUs versus their rival Xeons at a launch event in San Jose, California today (Click to enlarge)
This also comes as Qualcomm fends off a takeover bid by Broadcom, and is fighting legal challenges from Apple, Intel, Samsung and America's trade watchdog, the FTC. Meanwhile, Qualy is having trouble extracting cash from those licensing its technology, and is suing Apple for allegedly blabbing its secret chip blueprints to Intel.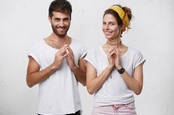 AMD, Intel hate Nvidia so much they're building a laptop chip to spite it
READ MORE
One Centriq customer we've already written about is Packet. Other folks who have got their hands on the hardware, we're told, include: Alibaba, LinkedIn, Cloudflare, American Megatrends Inc., Arm, Cadence Design Systems, Canonical, Chelsio Communications, Excelero, Hewlett Packard Enterprise, Illumina, MariaDB, Mellanox, Microsoft Azure, MongoDB, Netronome, Red Hat, ScyllaDB, 6WIND, Samsung, Solarflare, Smartcore, SUSE, Uber, and Xilinx.
Cloudflare CEO Matthew Prince was particularly zealous about Centriq: his web hosting biz said it was easy to recompile its software from x86 to ARM, and found the chips matched their Xeons in terms of performance on less power.
Excited about #QualcommCentriq ARM server chips. On @Cloudflare's workloads we're seeing equivalent performance to Intel at half the power.

— Matthew Prince (@eastdakota) November 8, 2017
Funnily enough, Amazon is absent from the launch. Meanwhile, HPE will sell Cloudline machines powered by Centriq processor.
Qualcomm is pushing the angle that its chip is better than Intel's rival Xeon offerings not on brute strength but on performance per watt and performance per dollar.
One thought occurs to us: Qualcomm pitched Centriq as an alternative to Intel's x86 server chips, allowing cloud providers to try an alternative supplier or at least use Qualy's CPU as a bargaining chip in price discussions with Chipzilla.
Unfortunately, AMD also managed to produced server processor Epyc that runs all your x86 software and is, depending on the configuration, competitively priced. If Qualcomm was hoping for a smooth ride, it's going to be disappointed. Interestingly, Qualcomm pitches its new processor as having better performance-per-watt of the 205W $10,000 Skylake-based Intel Xeon Platinum 8180 and the 150W $4,700 8160. AMD isn't, publicly, on Qualy's radar whereas in private, it's on a collision course. ®
PS: The next Qualcomm server chip will be branded Firetail with a core codenamed Saphira.