This article is more than 1 year old
One banana of backup, 2 container crabapples, a fig of flash: It's a storage smoothie
Can we skip the orange of outage, please?
We've peeled the storage news fruit, cut off the rough edges, discarded the excess verbiage bits and blended them into a smoothie. Grab a napkin and tuck in, because a lot has happened over the past week.
HPE
HPE has released OneView 4.0, which it claims provides:
Scope-based access control provides a very granular level of control, allowing administrators to limit resources that users are authorized to modify based on a specific group or role,
Two-factor authentication provides a second level of identification control, protecting user and configuration data from unauthorized access or manipulation,
Non-disruptive firmware updates for HPE Synergy enable the network to remain up and running with no measurable disruption to application performance, even while firmware and software drivers are being updated.
New API integrations with cloud management platforms Morpheus Data, CANCOM and InContinuum enable hybrid cloud management using HPE OneView to automate physical infrastructure monitoring and management.
Read more in a OneView 4.0 blog.
IBM
IBM has upgraded Spectrum Protect to v8.1.3, adding a back-end cloud object storage tier in IBM's own Cloud Object Storage (COS). Customers can tier to the cloud, migrating data from a directory container storage pool to a cloud container (object) storage pool based on age.
An announcement letter lists all the new functionality.
Scale Computing
It's partnering with WinMagic to integrate its SecureDoc CloudVM encryption and intelligent key management product with Scale's HC3 hyperconverged platform. The two say this can secure cloud workloads, and have Scale's Cloud Unity deal with Google for Google Cloud Platform support in mind.
Snowflake
This DW/BI-in-the-cloud company has announced Instant Elasticity under which customers can define their service level agreement (SLA), while providing an unlimited number of users with consistent performance, predictable pricing and no overbuy.
It is enabled by the instant availability of computing resources and there is per-second pricing.
Tragic quadrant
Gartner has announced its 2017 magic quadrant for general-purpose disk drive arrays: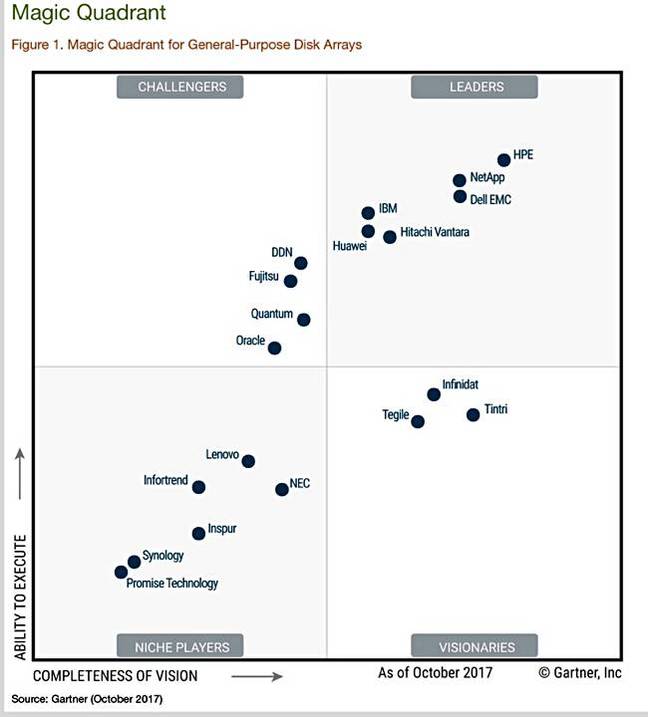 Here's last year's for reference: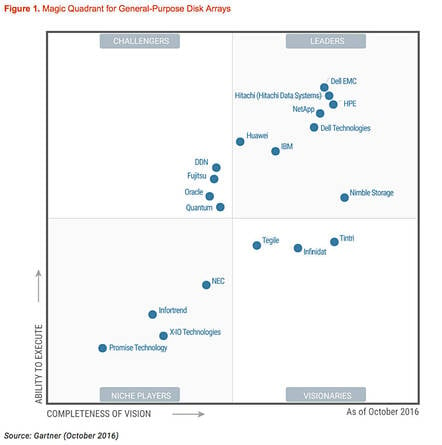 We can see that HPE is top of the 2017 tree, no doubt helped by the Nimble acquisition. In the niche player's box X-IO is out while Synology and Lenovo are new entrants. There's not that much change elsewhere.
Customers
SEGA Games Co, Ltd. has become a Tintri customer, using Tintri arrays in its primary and disaster recovery sites. Each Tintri unit hosts up to 800VMs. It says that Tintri's auto-QoS function automatically monitors storage I/O for each VM, lessens the impact of "Monster VMs" and simplifies management.
People
Lou Attanasio has been hired as Nutanix's Chief Revenue Officer (CRO); the fancy name for the worldwide sales boss bod. He comes from being EVP and CRO at Informatica and a general manager for IBM's BlueMix cloud before that.
Susan Scheer Aoki has been appointed as Violin Memory's EVP for Product Operations. She's promoted from running Violin's professional services and global support teams as SVP customer operations, having joined in 2015. In the past she's worked for NetApp and Cisco.
Shorts
Acronis reported 25 per cent year-on-year growth for its Acronis Backup 12.5 product line. The Acronis Backup 12.5 Advanced Edition has reporting and data management features to help companies to ensure GDPR compliance.
Chaos Sumo software is said to make sense of the disparate data saved in S3 in minutes. It claims it searches and classifies structured and unstructured data including image and video. Its Data Edge technology automatically creates a universal file format that can be discovered and organized without moving the data. Data is then instantly ready to publish to any commercially available or customized warehouse like Redshift or Snowflake. There is a community edition for AWS engineers, architects and data scientists.
Data protector and securer Druva has been granted an Authority to Operate (ATO) under the Federal Risk and Authorization Management Program (FedRAMP).
In-memory data gridder Hazelcast has announced IMDG 3.9 is generally available as a production-ready build, with usability, performance and scalability improvements. It has High-Density (HD) Memory Store Indexes and supports a rolling upgrade to a new minor release.
Netlist has filed new legal proceedings for patent infringement against SK Hynix in the United States International Trade Commission (ITC), based on alleged infringement of two Netlist patents by SK Hynix RDIMM and LRDIMM enterprise memory products.
Software-defined scale-out NAS storage provider Rozo Systems has joined the Dell EMC Partner Program. Its software runs on Dell EMC PowerEdge servers.
Veeam said it has recorded a 37th quarter of record bookings growth with a 34 per cent year-over-year increase in total bookings for Q3 2017. It now has more than 16,700 service provider partners. ®