Interview "Look, if you can't get decent broadband, it is a real pisser," said Openreach boss Clive Selley in response to a Devon village's decision to burn an effigy of one of its vans on bonfire night.
The place in question, Templeton, struggles to get 1Mbps. But Selley reckons that is why BT's controversial voluntary offer to connect 98.5 per cent of premises to at least 10Mbps by 2020 is so important (that is opposed to the government's original plan of a mandatory 100 per cent by 2020).
BT has said it will cost around £600m, which it will recoup by further hiking everyone's broadband bill.
"Delivering broadband to the final 5 per cent is not a cheap exercise, in the main those are houses and communities in ultra rural areas. It is very significantly expensive," he said. As such the solution will be fibre-to-the-premises.
"We are keen to get on with it, and are keen get a deal. But the costs have to be recovered by some means... so socialising costs across a very large base is a reasonable way to pay for broadband to rural communities in the UK."
Selley was speaking at the annual ISPA conference, for a number of Openreach's 580 providers, held at the BT Tower.
When El Reg last spoke to Selley, it was prior to its drawn-out agreement on legal separation. At the time, he was fairly circumspect in criticising the former state monopoly's historic broadband investment. Does he still feel the same?
BT's superfast investment was "bold and timely", he said at the time. "So I wouldn't criticise them for that. I think what we might have done, thinking reflectively, is that we should have started scaling up earlier to build our FTTP competence."
Indeed, since the split Openreach, under Selley, has proposed increasing its commitment to full-fibre investment to 10 million FTTP connections in the UK by 2025.
By... HOW MUCH?!
The current proposal is for its providers to commit to switching over their entire customer base to full-fibre – effectively decommissioning the copper network. However, that move has been criticised by some alternative network providers for potentially locking providers into Openreach further. That programme will cost up to £6bn, and again will be recouped by increasing monthly wholesale prices by £7 per month - with those costs almost certainly to be passed on to consumers.
But why can't the broadband provider dig in its own pockets for this investment? After all, it remains a very lucrative arm of BT, reporting operating profits of £624m in the last quarter, on sales of £1.3bn.
"Hang on, we are a healthy business in terms of profit, but then below that line there are vast amounts of it that gets ploughed back. We spend £1.6bn in [capital expenditure]. And then of what's left we have to pay for the pension top-ups." BT's pension deficit is currently £7bn – "the largest in Britain," said Selley.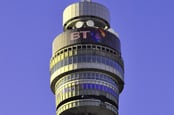 Flagging outsourcing biz and sports rights weigh down BT profits by 4%
READ MORE
"50 per cent of the people attributable to that pension scheme, and therefore that deficit, are in just Openreach. So we have to pay our contribution to that. And then of course dividends to shareholders. So it's not as easy as saying, 'you are making a load of money, just plough it all back'."
He points out that the firm is still investing in full-fibre, with 200,000 premises this year. "That is a lot more than last year, and last year we built a lot more than the previous year, so by stealth we are scaling."
Selley also reckons it's not just a simple case of laying fibre cables in the ground. Thousands in the employee base and supply chain must be retrained.
Recently, digital minister Matt Hancock criticised the slow progress of the legal separation. Selley believes what Hancock wants is a speedier transfer of bods from BT to Openreach.
Basically it's about making sure their pensions are secure, he said.
"At the moment there is a guarantee from government that their pensions are underwritten. We have 30,000 skilled engineers. We can't have them thinking we have undermined their pension rights."
The dark days are in the past
Another major change that has happened since we last spoke to Selley is BT's record fine of £42m from Ofcom for its failure via Openreach to compensate other telecoms providers for delays to fixing leased-line "Ethernet" services. The firm also agreed to pay £300m in compensation to communications providers.
Selley admits those were dark days. So is it all water under the bridge now? "Well... yes... we have two CPs of a material size out of the many, many CPs we have not settled with, who are debating [their compensation]. We are en route to getting it done."
Does he think the company now has a different relationship with its CPs? "You are going to have to ask them that, I am trying really hard to have a better relationship."
Another contentious point has been BT's reluctance to open up its dark fibre network to CPs. In July, the High Court's Competition Appeals Tribunal ruled that Ofcom had made a series of errors when it drew up the rules for a new market in unlit fibre, forcing it back to the drawing board.
Openreach has since offered CPs an alternative to the Ofcom-proposed Dark Fibre Access (DFA) product and Selley says another is in the pipeline. He believes that providing a managed service will actually be more beneficial to providers. He says if the managed service fails, then dark fibre will probably be back on the table.
"The regulatory view that specified dark fibre was informed by BT's woeful performance. And I'm guessing, I don't know, the thinking was 'you are rubbish at this, so just for goodness' sake give up a piece of your dark fibre and build the rest.' We are not that same company any more, we are actually very good at Ethernet."
Let's hope they stick to vans next year
Cynics, of course, would say it's more about BT not wanting providers to have unfettered access to its unlit network – hence the original court case.
It might be a different company, but it's hard not to see Openreach as a little hamstrung by its ties to BT. At any rate, the former state monopoly still owns all the assets, it signs off the budget and all the profits go back to BT.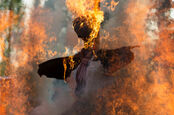 Guy Glitchy: Villagers torch Openreach effigy
READ MORE
"Right now I don't feel hamstrung. There is absolutely no doubt in my mind who controls Openreach... the assets are only managed by me, so who cares who owns them."
So is he enjoying his new position of power?
"It is a massive privilege. I feel very accountable. In a sense it's a bit daunting. It is my job to fix the UK's broadband. A few others will share that accountability, but I think the biggest slice of it is with me... I have to navigate [employees] through a huge period of regulatory and technical change.
"On a good day that is fantastic, but on a bad day..."
It could be your effigy next year?
"If it was, I would take it on the chin. Until everyone has decent broadband – for which I hold myself accountable – the have-nots will not be pleased with me." ®
Similar topics