Microsoft pals up with partners for threat-hunting
Bitdefender integration with Windows Defender ATP in preview; Lookout, Ziften soon
Windows Defender Advanced Threat Protection first landed as a public preview in September, and now its general availability, Microsoft has announced a bunch of partners to give it cross-platform support: Bitdefender for Linux and macOS, Lookout for iOS and Android, and Ziften for macOS and Linux).
With Bitdefender's Gravityzone Cloud integration arriving in public preview today, El Reg spoke to the company's group product manager Deepakeswaran Kolingivadi – DK – to find out what Redmond wanted.
DK told us the demand came from Microsoft's enterprise customers, who having seen Microsoft's code wanted the system to cover non-Windows devices.
"When MS pitched their Windows Defender Advanced Threat Protection (ATP) solution to their customers, they liked seeing Windows-based malware detection … they expressed the need to see that information in the same console from Mac/Linux," DK told The Register.
In particular, he said, macOS machines were nominated as popular in the executive suites, and Microsoft didn't have coverage of them. That's made them an attractive target, and "in the last couple of years we've seen a spike in attacks".
That contact, "around four or five months ago", set off the integration effort, and DK said the two companies' engineers got the work completed within a quarter.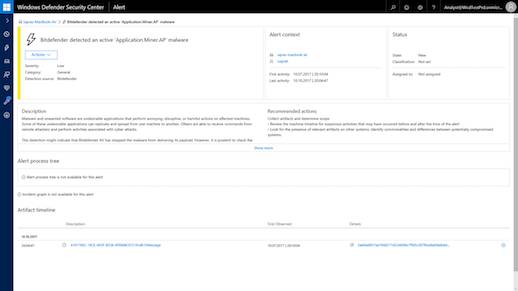 Bitdefender info through Windows Defender ATP. Click to embiggen
He said the current capabilities will be expanded, with Bitdefender increasingly seeing "platform-agnostic script-based attacks" that can affect Windows and macOS alike, and defences against those threats are part of the company's plans.
Announcing the partners, Microsoft said Lookout and Ziften products for Windows Defender ATP will land soon. ®