This article is more than 1 year old
UK Home Sec thinks a Minority Report-style AI will prevent people posting bad things
Calling all precogs!
Comment The Home Secretary believes artificial intelligence will soon be used to stop people posting on the internet pre-emptively with a kind of Minority Report-style "precrime" unit.
Amber Rudd made the call at an event hosted by the US think tank the New America Foundation. The Home Secretary castigated the platforms for taking "one to two hours" to detect and take down terrorist propaganda.
"Companies should press ahead with development and deployment of artificial intelligence systems that could spot such content before it is posted on the internet and block it from being disseminated," The Telegraph reports.
This implies Facebook would identify users pre-emptively, if they fit a certain profile or pattern of behaviour. Before you all scoff, behavioural technology that anticipates a user's actions is certainly very real, and you probably use it every day.
Our best brains have been working for a decade on behavioural analysis, which powers the giant ad duopoly of Google and Facebook, and the recommendation systems of Amazon. It's a small step from "you bought X so you'll like Y" to "you posted X, so you'll post Y next". All machine learning offers is another tool of probabilistic statistical analysis to the armoury that already exists.
So the "precrime" unit in Rudd's cybernetic antiterrorism doesn't necessarily need "precogs" or clairvoyants. The developers of the probabilistic pattern-matching software are the "precog".
Having identified "imminent danger", the platform may then take action. The action may mean blocking the user, or ensuring the posts are cloaked, and not seen by the wider world. We've asked the Home Office for clarification. What technology demonstration has given Rudd the idea that artificial intelligence is feasible and realistic?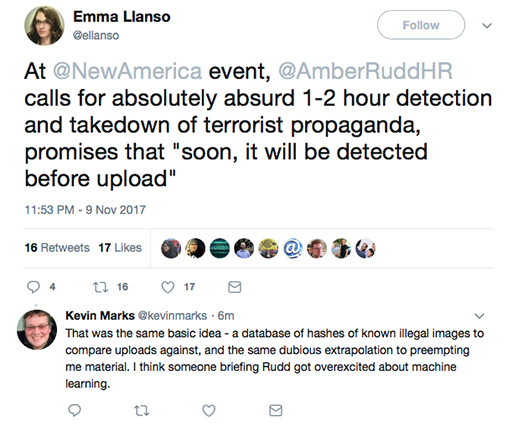 Evidently, from her comments, it appears that Rudd has been briefed so as to believe this is imminent. Either that, or her imagination got the better of her. She won't be the first public figure to get carried away by fantasies about artificial intelligence. Mainstream media now inhabits this fantasy totally. ®
Bootnote
As it's Friday, it's fun to explore what Philip K Dick, the author of Minority Report, was really up to in his fiction. In 1972, Dick explained that he used "androids or robots or simulacra" as a literary device in much of his fiction to explore ideas of what makes a human. As Dick credited humans with agency, and the ability to change their destiny (and environment), his ideas were more rich and subtle than the crude behaviourist stimulus-response view of Rudd and her advisors. Dick wrote:
And – here is a thought not too pleasing – as the external world becomes more animate, we may find that we – the so-called humans – are becoming, and may to a great extent always have been, inanimate in the sense that we are led, directed by built-in tropisms, rather than leading. So we and our elaborately evolving computers may meet each other halfway.
[Source]