HPE gets carried array with HPC: Partners up with DDN
High-performance servers get data-pumping storage arrays
+Comment HPE and DataDirect Networks are partnering to integrate DDN storage and burst buffer products with HPE's Apollo servers and its DMF workflow manager.
The result should be an integrated HPC server-storage product set that should benefit both suppliers.
The DDN products involved are its IME flash cache/NVMe drive burst buffer, EXAscaler array with Intel Lustre software, and GRIDscaler array with IBM's parallel file system Spectrum Scale (aka GPFS).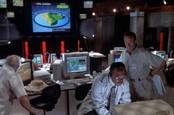 OMG: HPE gobbles SGI for HPC. WTF?
READ MORE
HPE's Apollo servers are chassis containing lots of ProLiant gen 9 server blades and some can be liquid-cooled. The company has existing partnerships with scale-out filer software suppliers like Qumulo and WekaIO.
DMF is the Data Management Framework and provides workflow, data management, protection and disaster recovery capabilities. We could envisage a DMF umbrella covering Apollo servers integrated with enhanced EXAscaler and GRIDscaler arrays which are fronted by the IME buffer engine.
HPE and DDN said: "The focus of the partnership is to accelerate and simplify customers' workflows in technical computing, artificial intelligence and machine learning environments."
+RegComment
A customer quote talks about maximizing data throughput and data protection. We can see the data throughput bit but not the data protection bit. DDN might suggest using its WOS object storage system as a backup target but that's not involved in this partnership. Neither is any backup software product. Nor is there any mention of backing up to a public cloud tier.
We have asked both DDN and HPE about this and DDN's marketing director, Kurt Kuckein, provided the goods. Here it is: "In this case, we are talking in broader terms, not just specifically backup and recovery.
"Generally, this covers workflow and hardware failure – including the testing of the solutions end-to-end (jointly between DDN and HPE), as well as DDN SFA capabilities to remain online and deliver full performance in degraded mode while executing timely rebuilds."
Sorry DDN and HPE, but this might not be what people understand as data protection. It's more of an availability thing. Kuckein continued with this point, which is more pertinent but still leaves out backup:
"From a data protection perspective, DDN and HPE will validate, market and support the HPE Data Management Foundation (DMF) platform for use with the DDN parallel file system solutions. HPE DMF (available at HPE following the acquisition of SGI in 2016) is proven in the market for over two decades in many demanding HPC storage environments – and it provides capabilities for data tiering, data replication and disaster recovery." ®