This article is more than 1 year old
Metal 3D printing at 100 times the speed and a twentieth of the cost
If the Desktop Metal can pull this off, a revolution is coming
Comment A new machine will print metal parts at a tenth of the cost of today's manufacturing systems, potentially launching a revolution in small part production, its creators claim.
Desktop Metal, based in Boston, USA, has opened up pre-orders for its Studio System which uses inkjet-like technology, rather than laser-based techniques, to produce precision metal parts.
The system isn't cheap – it's $120,000 to buy outright or $4,000 a month for 36 months – but compared to other ways of producing metal parts, especially in small numbers, it could be a game-changer. Sure, there are traditional CNC machines but they still cost from thousands up to hundreds of thousands of dollars. This fat gizmo is supposed to be a challenge to that.
The printer will be made available in mid-2018, at which point the company hopes to expand even further with a production version of the machine that offers 3D printing at 100 times the speed and a twentieth of the cost of current systems.
Traditionally, metal 3D printing has been used only for prototyping given the slow speed and high-cost of making each part. Once a design is finalized, it then goes to traditional and long-standing extrusion or casting methods for bulk production.
Desktop Metal claims to be able to turn that model on its head, bringing the price down so significantly that it may be cheaper to use its system for many products rather than require expensive tooling equipment to be created for bulk production.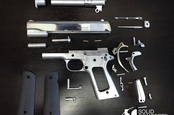 World's first 3D-printed metal gun 'more accurate' than factory-built cousin
READ MORE
It can print items with a range of metals, including steels, copper and titanium using commercially available powders. The company's unique addition is the associated binding and sintering agents and the printing system – developed by the company's team of MIT-trained scientists.
Tooling
One of the investors in the company, managing partner of BMW iVentures Uwe Higgen told The Register that the car manufacturer has warehouses full of tooling equipment for its different cars, each of which typically costs millions of dollars to create. It also takes months for those tools to be developed.
According to Desktop Metal, its Studio System will be "the world's first affordable, office-friendly metal 3D printing system." So how does it work and how come it's so much faster and cheaper than current methods?
The answer is in the company's patented technology that uses inkjet technology to build up the metal parts. An inkjet printer works by using hundreds of tiny ink guns to fire dots of ink onto the paper, with the arm holding those guns moving across the page.
The 3D printing system works in much the same way, except in three dimensions: placing a layer of ink – or in this case metal powder – on top of the previous layer. It's not that simple of course: the machine also sprays layers of wax and a plastic binding agent in very specific patterns.
The final printed part is then first placed in a "debind" fluid that breaks down the wax and most of the plastic before being placed into a furnace where the rest of the binding agent (which has a boiling point of just below the metal) is burnt off, leaving just the metal. The metal fuses creating a density of between 96 and 99.8 per cent, according to Desktop Metal. Final finishing then completes the process.
Just as inkjet printers produced high-resolution printing at a much cheaper price than laser printing, so the inkjet 3D metal printing does the same by not requiring expensive laser equipment.
Both are still going to work out more expensive than bulk production e.g. printing presses/extrusion/casting plants – but the cost reduction means that producing a small number of units is going to work out significantly cheaper. In some cases that may mean that a company would not need to bulk produce parts at all.