Quantum CEO exits as scale-out storage rescue fails
Tape, DXi and SOS all trend down as SW-defined cloud-native star rises
It's blood on the boardroom table at Quantum as an activist investor joins the board, the CEO leaves, the scale-out storage revenue rescue strategy fails, revenues turn down, and hopes turn to a software-defined, cloud-native future.
Deep breath folks, and a quick history lesson. Quantum was one of the dominant big-iron tape industry players back when data centre backup tape reels were spinning strong. As deduping disk backup became the thing, Quantum, led by CEO Jon Gacek, bought and came out with its own DXi backup appliance.
Data Domain dominated this industry sector, and so Quantum went into scale-out storage with its StorNext product line, and allied object storage, disk arrays and software components. Revenues grew comparatively slowly as Quantum looked to them to replace the declining tape and flattening then declining DXi revenues. There was periodic sales under-performance as big ticket deals were delayed or went away.
The share price continued a long decline and activist investor Eric Singer of VIEX Partners scented an opportunity and bought shares, becoming Quantum's majority shareholder and, in an odd move, Gacek left the board but was kept on as CEO.
Revenues limped along until this quarter, when they turned down. A lawsuit was settled out of court and Singer joined the board. Now Gacek has left the building and the company is pinning its hopes on a software-defined, cloud-native, recurring revenue future.
Second quarter results
Revenues of $107.1m were down on the year-ago $134.7m and the previous quarter's $116.9m. Oops and a drop below the estimated $122.5m or so. Natch there was a loss, $7.9m, which was compared to a year-ago $4.1m profit.
What went wrong? Quantum pointed to the timing of closing deals at quarter end, third-party component supply shortages, and softness in disk backup systems sales. It was a horror show with the year-ago quarter benefiting from a $15m public sector deal and making the comparison hard.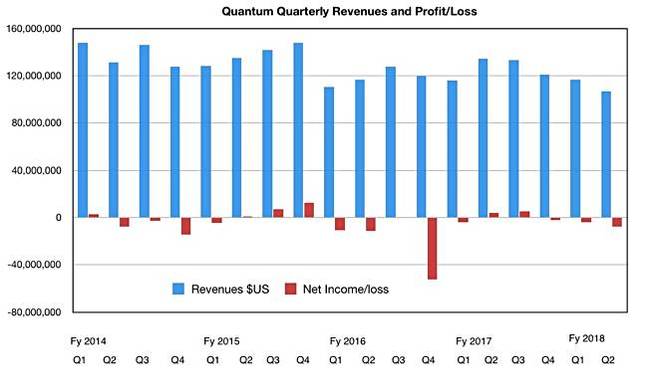 The chart shows the revenue and GAAP net income history, and we can see three straight declining revenue quarters at the right-hand end with three quarters of falling net income too, losses in fact.
Looking at the product sector revenues the picture becomes clearer: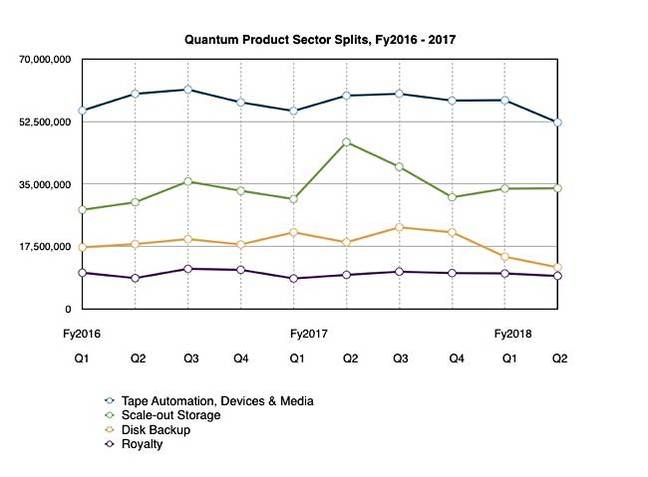 The green scale-out storage line is in a four-quarter decline. Tape automation sales are turning down and DXi sales are plunging while royalty revenues are flat and unlikely to rise.
Revenue back story
SVP and CFO Fuad Ahmad said: "We're taking aggressive action to improve our cost structure and generate consistent growth and profitability. We believe part of the challenge at quarter end involved timing of deals, and we've already shipped more than 50 per cent of the revenue from deals that weren't closed, including those delayed by third-party component supply shortages."
Board changes
The board, after having had to do a reverse stock split to avoid delisting earlier this year, brought Adalio Sanchez to its table in May, and then Eric Singer in June.
Also in June it set up a strategic review of the company's business and engaged AlixPartners to assist in identifying cost savings to increase profitability, financial flexibility and growth investments.
Sanchez is IT industry-savvy, having been an SVP at Lenovo and general manager for modular systems at IBM. He becomes an interim CEO and the board has set up a CEO search committee. This indicates it collectively did not want to replace Gacek at the time.
Earnings call
Chairman Raghu Rao himself was on the earnings call, along with interim CEO Adalio Sanchez and CFO Fuad Ahmad – things are that serious.
Rao started out by saying: "This has been a very eventful quarter for Quantum." No kidding! He talked about some new funding, a cost-savings plan, the CEO replacement, and bringing Singer on board.
His earnings call pep talk continued with this reassurance: "The company is intensely focused on taking aggressive actions to immediately reduce our cost structure, ensure better execution and generate more consistent growth and profitability. We expect strong sequential growth and revenue and profitability in the second half of this fiscal year."
Then Sanchez banged the drum, saying he was hitting the ground running, and "We'll leverage our strong position in data protection to increase profitability. This is our profit engine. We'll drive growth with our scale out tiered storage offerings levering our unique storage StorNext asset and this is our growth engine.
"At the same time, we are building a software-defined storage and data management platform to improve margins and increase recurring revenue streams going forward. And lastly, we will reposition our company over time as a modern software-defined solutions provider as new products roll out."
Quantum is going to get an end-to-end transformation to generate cost-savings, make it nimbler and easier to do business with, and partner with.
Sanchez's priorities are to: "Reignite the sales engine and enable the team to maximize performance. Secondly, aggressively drive the transformation and the cost actions. And third, execution, execution and execution."
CFO Ahmad mentioned component supply issues, understood to be SSD and HDD-related, which affected StorNext revenues. Quantum still believes StorNext and scale-out storage can be a growth engine, a double-digit growth engine.
Disk backup is in a poor state. Ahmad said: "Disk backup we feel like we need to kind of reorient our go-to-market strategy... we are a small player in that market less than 3 per cent market share... While it's a fairly profitable business for us to be in, it is not core to what we want to do long term."
Quantum will think about changing its go-to-market strategy for these DXi products. Perhaps it will look to partnership, possibly OEM, with some other supplier.
Software-defined future
Molly Preston, Quantum's VP of global marketing, says Quantum has a large amount of IP and has been evolving towards a future of software-defined systems and cloud-native products. It's what all big-iron companies have had to do, she said.
Product initiatives like Castle and Rook indicate the direction in which things are moving.
She says the company wants a balance between the hardware appliance-tyoe revenues and recurring revenues from software-defined products.
The net:net is that Quantum is now controlled by a board which has taken decisive action, run by an experienced interim CEO, and looking for a fresh CEO for its new world future.
Next quarter revenues are expected to be in the $120m to $125m area, with full year revenues in the $480m area, down from last year's $505m.
+RegComment
So Quantum's board has finally woken up and realised that it has been living in la-la-land for long enough. There have been many failures to execute in the past, with sales and other issues.
Like a groggy boxer whose career is on the ropes, Quantum has a new emergency corner team, and is looking for a new trainer. It thinks it can rescue its career and is telling customers, partners and, indeed employees, to have faith.
We were down, it's saying, but we're not out. We're up off the floor and we have a way forward. ®