This article is more than 1 year old
Munich council: To hell with Linux, we're going full Windows in 2020
Never go full Windows
Munich city council's administrative and personnel committee has decided to move any remaining Linux systems to Windows 10 in 2020.
A coalition of Social Democrats and Conservatives on the committee voted (PDF, auf Deutsch, natürlich) for the Windows migration on Wednesday, Social Democrat councillor Anne Hübner told The Register.
Munich rose to fame in the open-source world for deciding to use Linux and LibreOffice to make the city independent from the claws of Microsoft. But the plan was never fully realised – mail servers, for instance, eventually wound up migrating to Microsoft Exchange – and in February the city council formally voted to end Linux migration and go back to Microsoft.
Munich's mayor claims €4m savings from Linux switch
READ MORE
Hübner said the city has struggled with LiMux adoption. "Users were unhappy and software essential for the public sector is mostly only available for Windows," she said.
She estimated about half of the 800 or so total programs needed don't run on Linux and "many others need a lot of effort and workarounds".
Hübner added, "in the past 15 years, much of our efforts were put into becoming independent from Microsoft," including spending "a lot of money looking for workarounds" but "those efforts eventually failed."
A full council vote on Windows 10 2020 migration is set for November 23, Hübner said. However, the Social Democrats and Conservatives have a majority in the council, and the outcome is expected to be the same as in committee.
She said the cost of the migration will not be made public until November 23, but today about 40 per cent of 30,000 users already have Windows machines.
CSU party council member Kristina Frank told The Reg: "Munich had huge difficulties in communicating with other authorities, communities and other externals.
"As everything needed to be developed by ourselves, the city's IT was 10 to 15 years behind market standard. The City of Munich is not an IT developer, but has other major concerns to deal with."
Hübner said "no final decision has yet been made" on whether LibreOffice will be swapped out for Microsoft Office. "That will be decided at the end of next year when the full cost of such a move will be known."
Peter Ganten, CEO of Univention in Bremen and a member of the Open Source Business Alliance, told El Reg: "The council of the city of Munich has just executed a decision which they have made long before."
Not all agree that it is a good decision.
Ganten said "of course nobody in the open-source community is happy that this decision has been made" and the city will spend "decades of man power" and "millions of euros" on migration (as it did with the LiMux project), while client OSes "becomes more and more unimportant and other organisations are wisely spending their money for platform neutral applications."
Matthias Kirschner, president of Free Software Foundation Europe in Berlin, said "there were never any studies published" pinpointing what people were "unhappy" about. It might have been the LiMux client itself, or perhaps the migration process or lack of support.
He said he was also not aware of a comparison of the unhappiness of staffers in cities using Windows.
A report (PDF) by Microsoft partner Accenture commissioned by Munich found the most important issues were organisational.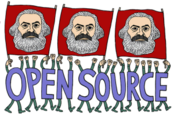 Munich considers dumping Linux for ... GULP ... Windows!
READ MORE
Kirschner also described splitting the LibreOffice move as "strange" if the parties are concerned about interoperability. He said Microsoft Office will be "very, very expensive" so it's possible the coalition wanted to split up the costs, although he did not know for sure.
Next year, he said civil servants would require more training and could delay citizens receiving help – the move "is a cause for failure".
Kirschner said the Windows in Munich project will "paralyse the city administration for years" and civil servants and citizens will "suffer."
Florian Roth, of the Green Party, told The Reg: "Our Green Party are against this decision in favour of a mix of Linux and Windows. This is more secure and less expensive."
We contacted the city's press division, the mayor's office and the current head of Munich's IT department for comment on the migration vote.
An Italy-based spokesman for the Document Foundation, which is in charge of LibreOffice, attributed the decision to politics. "IT issues are normal regardless of operating system," he said. "When it's political, technology cannot do anything." ®