Openreach chair Mike McTighe says the carrier has concluded its consultation on how to deliver fibre-to-the-premises connections across Britain by the year 2025 and will deliver its plan to do so "before Christmas".
"We will be publishing Openreach's response to that consultation before Christmas, and in that we will put out a very clear hypothesis on what it takes to build ten million FTTP ports in the UK," McTighe told the Broadband Futures Conference today in Sydney, Australia.
McTighe said communications service providers responded positively to the consultation and agreed that it's time to start on an all-fibre build.
With retail carriers behind it, McTighe said "we will see if we can get the regulator and the government lined up behind it."
"Let me be very, very clear," he continued. "Openreach wants to build a full fibre network."
"But equally we are not stupid. We have to make an economic return. We need to have a business case that washes its face, that I can take to our shareholder – which is BT – to get them to invest in and to come up with the cash."
McTighe also wants to talk to UK telecoms regulator Ofcom and the government about a new regime as it moves to what he described as the "fundamental change" of installing fibre connections.
"We need a regulatory environment that moves away from lower pricing to encourage investment in the network," he said. Later in his speech he said "we need to be able to switch off the copper network. The economics don't make any sense if we keep the copper network running at the same time as we overbuild with a fibre network."
"We at Openreach are ready to invest, but we need a fair regulatory environment."
McTighe also said that as Openreach builds fibre connections, it will need to encourage internet users need to pay more for their services. He admitted that's a hard sell given the UK's low inflation.
The chair was also asked about Openreach's role providing fibre connections to support future 5G rollouts.
"The issue with 5G is the micro-cell architecture," McTighe said. "We want to provide that. It is not currently within Openreach's scope. I want to to change the scope so that when we build down a street we not only provision for the homes and premises and businesses that we pass, but that we provision architecturally for whatever radio heads need to be built to support a micro-cell architecture."
"That will help our business case," he said, but will also complicate the company's work because citizens won't tolerate ugly wiring in the street.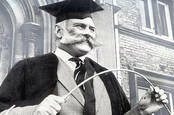 Openreach: Comms providers 'welcome' our full-fibre 'ambition'
READ MORE
"To so that, we will need to have the onus of that street furniture, which are largely the local council's."
"So I want to do it, I think we are in the best position to do it, the challenge for us will be does that discussion with the local council stop us from actually building the fibre network."
"I would like to do it, I think it is important, and we will certainly try and surface that conversation in the discussion with those local stakeholders." ®