This article is more than 1 year old
Shiver me timbers! 67cm Playmobil pirate ship sets sail for Caribbean
Scottish vessel gets a refit by team that restored Cutty Sark
A Playmobil pirate ship has been launched off the west coast of Africa after stowing away on a full-size Norwegian vessel.
The toy ship, named Adventure, was launched in May by two Scottish brothers – Ollie Ferguson, 8, and Harry, 5 – and their family as an update to the tired message-in-a-bottle trope.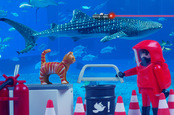 Chilling evidence emerges of Kilocat weapon
READ MORE
The Fergusons – realising Playmobil didn't actually design the ship to take to the open seas – made some adjustments to the vessel before launch.
El Reg, which has a proud tradition of using Playmobil to, um, illustrate the news, were intrigued at the family's practical use of polystyrene in the vessel. The last time we used the synthetic polymer, it was as a backdrop to our reimagining of the Apollo 17 landing site.
"A counterweight was added to help it stay upright and it was filled with polystyrene to help it stay afloat," the family wrote on the ship's website.
After passing trials in an open-air swimming pool, the vessel was deemed seaworthy – as photographic evidence attests.
The news has been rubbish recently, so here's a Playmobil pirate ship that's trying to sail across the Atlantic - Launched by Ollie (8) and Harry (5) Ferguson https://t.co/MUOZ9ddpWS pic.twitter.com/LeAtVb7KIQ

— James Andrews (@FinanceJames) November 10, 2017
Adventure was bid bon voyage from Peterhead – about 80km (50 miles) north of Aberdeen – in May, and it first landed in Denmark.
Landlubbers there picked up the ship and sent it back on its way, with the Fergusons saying it ended up moored in a tree in Sweden. It was fixed up and relaunched, edging on to Norway.
There, the ship was picked up by the crew of the Norwegian full-rigged ship, the Christian Radich, who decided to help it on its way – and carried it 3,000 miles to Africa.
The crew "undertook running repairs and replaced the sails and rigging damaged in the North sea crossing," the Fergusons said.
"The actual repairs were undertaken by crew members that had helped restore the Cutty Sark, so she was in capable hands."
They launched the vessel off the coast of Mauritania in western Africa.
"Between the Canaries and Cape Verde, they decided it was the best place to put it in the ocean to give it the best chance of getting to America or the Caribbean," the boys' father, MacNeill Ferguson, told the Daily Record.
"It would be nice having a toy pirate ship get to the Caribbean."
According to the ship's on-board tracker, it's currently headed south down the west coast of Africa. ®