This article is more than 1 year old
IBM asks remaining staff to take career advice from HR-bot
'Myca' has staff eating cognitive dog food, which may taste better than prevailing bitterness
IBM staff are being asked to eat the company's dogfood in the form of an AI-infused career advice chatbot named "Myca".
The Register understands that Myca – an acronym for "My Career Advisor" - was developed in a staff hackfest and is sold as the Watson Career Coach.
Multiple IBMers of our acquaintance tell us that a great many IBM staff have recently had an invitation to chat with Myca land in their inboxes. The invitation says Myca is "working hard to build a knowledge base about you and IBM so I can provide the best career advice."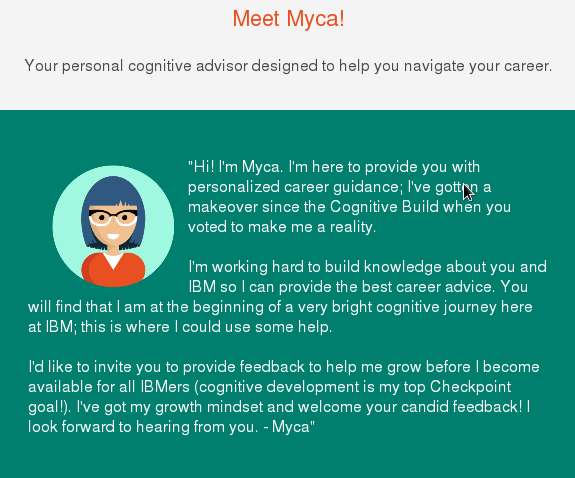 IBM's 'Myca' HR-bot
That advice might be "recommendations about your current role and career path" or suggest "alternate roles and career paths."
One IBM staffer told us she holds out hope that Myca "Might not recommend jobs that require skill sets I don't have, like our current tool does." Our source tells us that tool also sends word of jobs that may have been filled.
Another tells us that Myca can't be much worse than current training systems, which recommend training courses that can be circumvented and marked as completed with a click or two, instead of actual work.
Whether Myca can improve the morale of remaining IBMers - which The Reg understands is patchy - remains to be seen.
Emails sent to staff ask them to get going with Myca, ASAP, to train it up. Which suggests that Big Blue doesn't have a heap of data to get started – as you'd expect after its many recent "resource actions" - IBM jargon for firings. ®