This article is more than 1 year old
Infinidat adds sync, async replication and bans noisy neighbours
InfiniBox release 4 ticks more o' them mission-crit array boxes
Big-iron array supplier Infinidat's fourth major version of its software adds sync (block) and async (file) replication, file directory quotas and quality of service features to quiet down noisy neighbours.
Infinidat says it collaborated with more than 100 customers on the features for this release, in the planning and development cycle, letting it talk about a social programme and community development.
The InfiniBox release 4 software introduces:
Synchronous replication with claimed industry-leading sub 400μs latency and 4-second RPO
NAS asynchronous replication with a 4-second RPO
NAS TreeQs directory quotas
Anat Rappaport, an Infinidat senior product manager, talks of a traditional 2X latency penalty with sync rep and claims InfiniBox R4 and its InfiniSnap technology "improves the industry standard by over 25 per cent, with bulletproof, sub-400 μs latency". This synchronous replication should widen Infinidat's mission-critical storage array market.
The system can transition programmatically, without IO stalling, between async and sync modes. It supports enterprise cluster suites from Veritas, VMware and others, and replication can be organised for specific volumes and consistency groups.
Infinidat says Fibre Channel-based replication has four steps whereas its IP-based replication has two steps per transfer.
The NAS asynchronous replication also uses the InifiniSnap technology, and has a 4-second RPO, a near-sync time, with Infinidat claiming this is a 10X improvement over the current (unidentified) market leader. It says it supports replication of cloud-scale file systems and billions of files per file system with zero latency impact.
NAS TreeQs enable user quotas to be enforced at the directory level. This is said to simplify migration from existing NAS systems and enable per-app and per-capacity reporting. It scales to millions of quotas, with no performance impact at enterprise scale and load, according to Infinidat.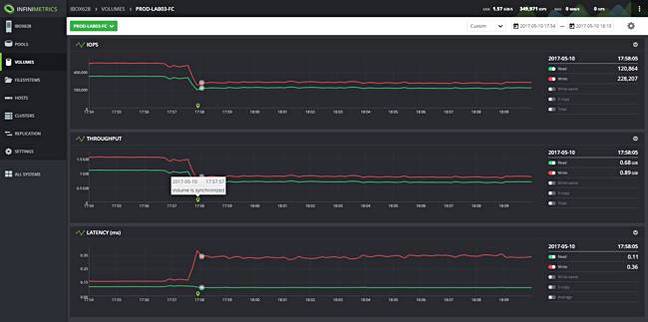 InfiniBox R4 GUI
Infinidat talks about its neural cache-based quality of service (QoS). The company says it provides QoS without using storage tiers, but all-flash array vendor SolidFire was able to do this some years ago with its noisy neighbour-eliminating QoS facility in the Elements OS.
The QoS allocates resources by tenant (pool) and/or application (volume). There is graceful enforcement of SLA by allowing bursts and adding artificial latency to exceeding IO requests. It can provide an on-demand performance envelope for hosted private clouds, with performance measured by IOPS, MB/sec and capacity.
QoS could be relaxed completely, applied flexibly with permitted burst exceptions or strictly with no exceptions.
Other new features in release 4 include OpenLDAP support, service network routing, snapshot cache deduplication, and OpenVMS support.
The release 4 software with these features will be available in December, with no increase in licensing costs. ®