Red Hat Enterprise Linux for ARM reached general availability Monday, underscoring the growing competition confronted by Intel's x86-64 platform in the data center.
The corporate Linux vendor first presented a preview of Linux for ARM in 2015, although the software has been in the works for a number of years. Since that preview landed, it has been working with partners such as Qualcomm, which just introduced its Centriq 2400 line of ARM-based SoCs for cloud providers, and HPE, which has just announced Apollo 70, its first ARM-based HPC system.
Red Hat Enterprise Linux 7.4 for ARM is the first commercial release of RHEL for that CPU architecture, we're told. SUSE poked fun at Red Hat last year, arguing it beat RHEL in a race to ship a finished commercial server-grade ARM Linux distribution offering.
In a phone interview with The Register on Monday this week, Yan Fisher, principal product marketing manager for Red Hat, explained that the company's multiplatform strategy dated back 12 or 13 years to when the company started working with IBM on its Power and Z systems.
"When we realized that ARM is going to be a formidable player in that space, we started investing," he said.
Jon Masters, chief ARM architect at Red Hat, said the ARM team formed on March 1, 2011. He recalls bringing a BeagleBoard in with a 32-bit ARM chip and saying the hobby hardware would evolve into a server at some point in the years ahead.
"It had to get to 64-bits, since no one wants a 32-bit server," he explained.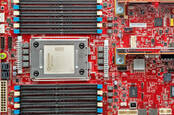 Qualcomm is shipping next chip it'll perhaps get sued for: ARM server processor Centriq 2400
READ MORE
Intel's x64 chips continue to dominate in data centers, but ARM hardware now, with the rise of 64-bit ARMv8-A and other supporting features, appears to have enough interest from corporate customers to make the market potentially a bit less lopsided. Intel's announcement last year that it planned to license ARM tech for mobile chips is telling.
The shift won't happen overnight and it's not about replacing other architectures, insisted Fisher. It's about making room for innovation, in the form of specialized ARM designs.
"We're at an inflection point in the industry where people need to have different solutions," said Fisher. "This gives our customers the ability to move from one version of hardware to another and continue to reap the fruits of innovation."
A recent research paper, penned by Jayanth Kalyanasundaram and Yogesh Simmhan, of the Department of Computational and Data Sciences Indian Institute of Science in Bangalore, pitted AMD's 64-bit ARMv8-based A1170 SoC against AMD's x64-based Opteron 3338.
It found the AMD ARM server performed comparably to the x86 box for integer-based and small-sized floating-point workloads. With larger floating-point tasks, the AMD ARM chip's FPU limited its performance, but the researchers note that by tuning Hadoop for data parallelism, the ARM64 hardware could get close to the x64 gear.
Where the ARM-based server shined is energy consumption. "An energy analysis shows the ARM64 server to have a 3x smaller base power load than the x64 server, and a similar reduction in incremental load even when running the Big Data applications," the paper says. "We also see that the EDP [Energy Delay Product] is better for ARM64 by up to 71 per cent compared to the x64 server."
Energy consumption, say Kalyanasundaram and Simmhan, accounts for "the major fraction of the operational cost for cloud data centers," making ARM attractive to those paying power bills. ®
Similar topics