Your next laptop will feature 'CMF' technology
You didn't miss a new standard: CMF is 'colour, materials and finish' and PC-makers use it to make us fashion victims
---
HP Inc says it has flipped its relationship with the PC supply chain, and made colour, materials and finish as important to PCs as CPUs, screen sizes and disk capacities.
Stacy Wolff, HP Inc's global head of design, told The Register today that four years ago HP's designers took what component-makers sent it, then designed PCs around those parts.
Today, he says HP Inc bosses component-makers, devising designs for PCs and then telling part-makers to bring devices that match its desired specs. Wolff said Intel, AMD and Microsoft all take HP Inc's calls and deliver features it requests.
So do outfits lower down in the supply chain. HP Inc has added a design bureau in Taipei, in part to get closer to Taiwan's myriad component-makers. But Wolff said the designs the company wants are drawn up long before they get to Taiwan: part-makers are being told what to do to enable the thin and light products HP Inc wants rather than setting design agendas.
The result is things like laptops with a gold or rose-gold finish, or a ceramic-like finish that means a bright white laptop stays that colour and can be wiped clean. Wolff also explained that HP Inc sometimes double-dips devices – literally, in anodising liquid - to give them extra sheen. He also waxed lyrical on hinges, both as aesthetic features and as a way to make devices smaller.
Wolff said all this stuff makes a difference to buyers, especially in China and among women. The former appreciate devices that suggest status, while many of the latter want machines that fit in with home or office décor. With the PC market in long decline, the effort to address such buyers makes a difference.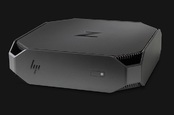 HP Ink shrinks workstations to puckish form factor
READ MORE
Figuring out how to source and manufacture rose gold or ceramic-like devices uses a fashion industry discipline called "colour, materials and finish" (CMF). Wolff said HP Inc has given itself a crash course in this stuff and showed off studious filled with fabrics and objects intended to suggest approaches to building products.
A by-product of that approach is that HP Inc products are now considered fashion. Wolff said his design team no longer cares about its products appearing in outlets like The Register - Wallpaper* and Vogue press his buttons instead.
So why has The Reg dived into the world of CMF to cover Wolff?
Because Wolff also said said these efforts aren't aimed only at consumers. Business users demand prettier products too, and businesses want to buy them to prevent workers feel like they've been lumped with frumpy kit. Wolff also explained that HP Inc's designers rotate through consumer and enterprise teams, so there's lots of cross-pollination. Hence a CMF effort that considers black objects like carbon-fibre bicycle frames or sports cars can inform a design for a gaming laptop or the Z-series workstation.
Which means CMF will be in your face when you next buy business computers, especially as HP Inc is not alone in this thinking. Lenovo has placed more emphasis on design in recent years, Microsoft's used fabrics in recent SurfaceBooks and Google last year declared its Daydream View VR headset was "inspired by the clothes we enjoy wearing". And of course Apple has done this stuff for years, giving the world the miracle of rounded rectangles. ®