Two unnamed women allegedly raped by Uber drivers sued the transit app biz today for sexual assault and unlawful business practices.
The complaint, filed in a US district court in San Francisco, California, today seeks damages, stricter screening for drivers, insurance coverage for riders, and disclosure of the number of reports Uber has received about rapes, sexual assaults and gender-related harassment.
In a statement provided to The Register, Wigdor LLP attorney Jeanne M. Christensen, representing the plaintiffs, said the recent #MeToo campaign on Twitter has revealed "the heinous acts" that female riders have endured during Uber rides.
Uber "must come forward with information about how many reports it has received about rapes, sexual assaults and gender-motivated harassment to allow consumers to assess whether Uber really does provide safe rides, especially to women," said Christensen. "Uber must make drastic changes to prevent another female rider from harm."
The plaintiffs' legal team hopes to have the claim certified as a class action, in order to represent all those who have experienced sexual harassment and assault from Uber drivers.
The complaint contends that Uber is putting thousands of women at risk of being attacked by Uber drivers because the company has prioritized growth over safety.
It cites the #MeToo campaign, which emerged on social media following the harassment charges made by numerous women against film mogul Harvey Weinstein, for prompting "hundreds, if not thousands" of female passengers to implicate Uber drivers in tweets reporting sexual assaults.
Volume
The complaint lists seven such tweets from October and claims "the sheer volume of reports makes it impossible to list each tweet herein."
Here's one such tweet, said to be from an Uber passenger in Las Vegas in October: "This @Uber driver today pulled out his Man part (one eyed snake) and thought I didn't see him so upset here's the video #MeToo."
The Register searched for this particular string on Twitter and, at the time this story was published, the corresponding tweet could still be seen and proved to be every bit as explicit as described. To reiterate, the result is NSFW.
The complaint goes on to describe the litany of problems with Uber's background check procedures, noting that in April, Massachusetts authorities found 8,206 Uber and Lyft drivers out of more than 70,789 failed its screening process, with 1,599 having a history of violent crime and 51 being registered sex offenders.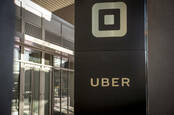 If you say it loud enough, Uber will sound atrocious: Super Cali juristic discrimination process
READ MORE
And it recounts a handful of sexual assaults involving Uber drivers among several hundred that have been described in news reports in recent years.
"Had Uber not sacrificed passenger safety for the sake of profit and expansion, and actually cared about who it was employing to drive its vehicles, rather than being preoccupied with racing to control its share of the taxi market, at the expense of existing taxi companies and consumers, Plaintiffs herein and proposed Class members would not have been harmed," the complaint says.
In a statement to The Register, an Uber spokesperson said: "Uber received this complaint today and we are in the process of reviewing it. These allegations are important to us and we take them very seriously."
Coincidentally, the culture of harassment that evidently flourished at Uber under former CEO Travis Kalanick, who resigned earlier this year, may become a film. ®
Similar topics