The HPC server gruntbox space is flourishing, with suppliers pumping out Broadwell-to-Skylake updates one after the other, Huawei being the latest.
It has shown a couple of Skylake-using servers at SC17: the 2488 rackmount product, announced last month, and the new CH242 V5. These are effectively the same 4-socket Xeon SP system in two guises.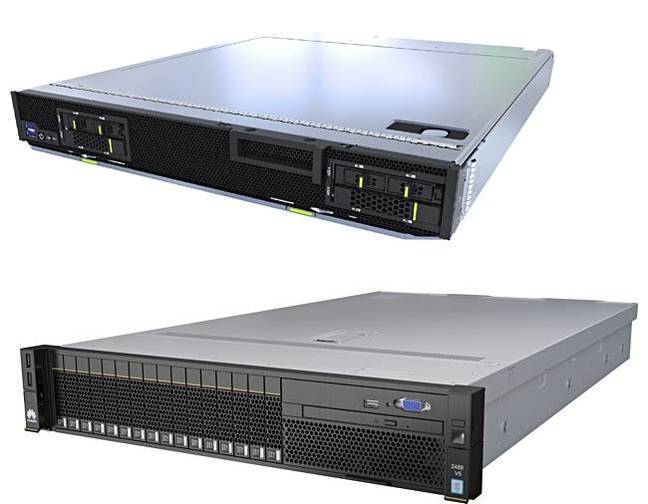 Huawei 2488 (bottom) and CH242 (top) V5 servers
Both support up to four Xeon SP processors, up to 6TB of memory, all-NVMe SSDs, and 100 Gbit/s InfiniBand and Omni-Path interconnects. Memory-optimised or compute-optimised configurations are available.
The CH242 V5 is a full-width 4-socket blade, upgrading the previous CH242 V3 product. It supports Xeon SPs with up to 28 cores, 48 x DDR4 DIMM sockets and 8 x M.2 SSD SATA storage. The storage can alternatively be 4 x 2.5-inch SAS or SATA SSDS and 4 x NVMe SSDs.
Get more data here. They were shown at SC17 alongside Huawei's Atlas cloud hardware platform, G series heterogeneous servers, and hybrid liquid cooling technology. Huawei is joining the Linux Foundation's OpenHPC project, and aims to provide an HPC open source framework verified for its software and hardware.
In its Skylake FusionServer line, Huawei already has the IU single socket 1288H V5, the 2U dual-socket 2288H V5 and CH121 V5 and half-width 2-socket XH321 V5. The CH242 V5 extends the Skylake coverage to a 4-socket blade.
Analytics, AI and machine learning applications represent great potential use cases for HPC servers and Huawei wants a piece of this market. ®