NetApp: You went all-flash, you never should've, um.. Well done
Yes, and Azure NFS and HCI also looking good
---
While still well short of its fiscal 2015 revenue glory days, NetApp has said its all-flash array sales are on fire, and expects more of the same.
Revenues of $1.42bn in its second fiscal 2018 quarter were 6 per cent up year-on-year and 6.7 per cent higher sequentially. This beat Wall Street's $1.38bn consensus.
Profits (GAAP) of $175m were 60.6 per cent up on the year-ago's $109m and 28.7 per cent more than the previous quarter. It has $6bn in cash and equivalents, and reported $314m cash from its operations, compared to $158m a year ago.
NetApp said its all-flash array annual run rate was now $1.7bn, up 58 per cent y-o-y. About 10 per cent of its installed base is using all-flash arrays so it has a lot of potential sales there in the future.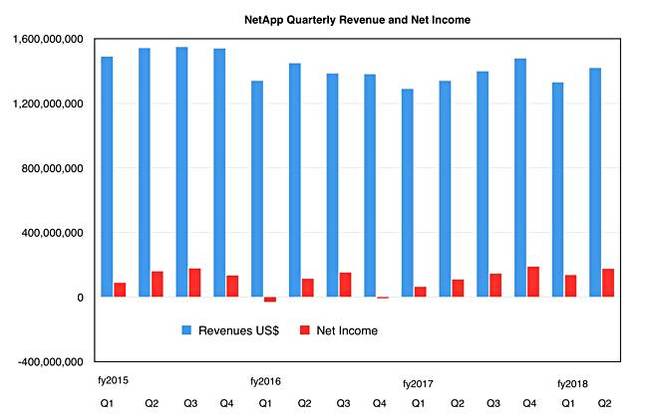 Wells Fargo analyst Aaron Rakers notes: "NetApp reported strong momentum in competitive wins (most notably vs. IBM, Hitachi, Dell / EMC), citing 2 competitive displacements per day during the quarter (vs. reporting 1 per day during the May 2017 quarter)."
In the earnings call CEO George Kurian crowed: "We are undoubtedly out-executing our competition on all fronts."
Don't take this the wrong way, Pure Storage – are you the next NetApp?
READ MORE
He mentioned OEM opportunities: "The transition from 7-mode to Clustered ONTAP is behind us. Our add-on hardware business is growing, and we have a renewed focus on hardware and software OEM opportunities."
Next quarter's revenues should be between $1.425bn and $1.575bn, $1.5bn at the mid-point, which would be a 7 per cent year-on-year increase. CFO Ron Pasek said: "We are planning the long-term business for low-single-digit revenue growth."
Beyond Q2, Kurian said: "We are raising the guidance for the second half of the year.
The firm's revenues have some way to go before regaining their fiscal 2015 levels but, at this rate, it should get there in fiscal 2019. ®