This article is more than 1 year old
NetApp's back, baby, flaunting new tech and Azure cloud swagger
By George (Kurian), he's done it
Analysis There's a new energy at NetApp. The Microsoft Azure NFS deal was a great confidence booster, and the two recent acquisitions of Greenqloud and Plexistor provide stepping stones to a high-performance, on-premises storage future and a stronger hybrid cloud play.
We were briefed at NetApp Insight in Berlin by co-founder Dave Hitz and CTO Mark Bregman, and found out more about the Plexistor and Azure NFS deals.
Plexistor
If Plexistor's technology lives up to its demo billing then NetApp has bought a great company. We were shown a 15TB MongoDB instance getting 3 million IOPS at 3 microseconds latency from an x86 server fitted with 2TB of storage-class memory (SCM) and hooked up across an NVMe over Fabrics, 100GbitE link to a high-availability pair of all-flash FAS boxes with a 13TB MongoDB allocation.
Plexistor runs in the server, interposed between applications and the Linux OS, and presents a file system interface (m1fs) to apps at the front end. Writing to and reading from this file system bypasses the Linux IO stack.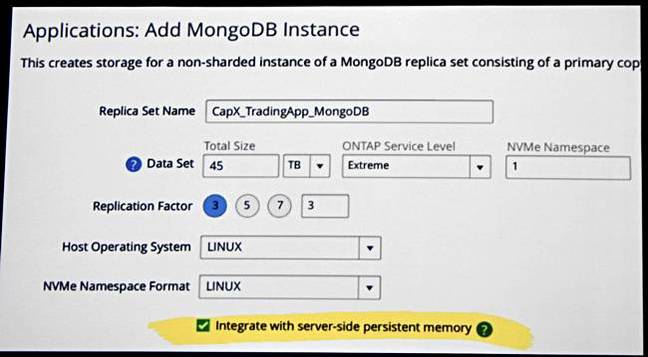 MongoDB being assigned 'extreme' performance level for ONTAP with NVMe over Fabrics and storage-class memory
At the back end it uses DRAM plus SCM as a cache and the external ONTAP array as persistent storage. It would use an NFS interface to the array, which is why the ONTAP AF FAS is being used as the external storage and not a SolidFire array; that has a block interface.
The low latency comes from Plexistor aggregating DRAM and SCM into a single address space and turning the SCM into a cache.
NetApp showed figures of the 15TB database running without SCM or an NVMe link to the FAS storage, receiving 110,000 IOPS at an 0.22ms latency. Adding an NVMe over Fabrics links to the array bumps the IOPS up to 300,000.
Installing SCM and the Plexistor software gets us to 3 million IOPS per high-availability node, 10x faster, and down to the 3 microsecs latency, 7x shorter.
We don't know the configuration of the servers or the SCM media type, but understand NetApp is testing both 3D XPoint and Samsung's Z-NAND.
Such latency makes the access latency of the NVMe over Fabrics link to the AF FAS array, assuming it's using NVMe flash drives, and running around 100-120 microseconds, a 4x slower transit to tier-2 persistent storage.
It also gets NetApp out of any my-NVMe-over-Fabrics-tech-is-better-than-yours contest with other suppliers.
Eventually we must assume other suppliers will get Plexistor-like technology. For now NetApp has it and will be fine-tuning it ready for 3D XPoint DIMMs appearing in the second half of next year.
Azure
A fuller picture has emerged of how the Azure cloud is supplying NetApp NFS file services. NetApp ONTAP FAS arrays are installed in the Azure data centre estate and Microsoft is paying NetApp to use them.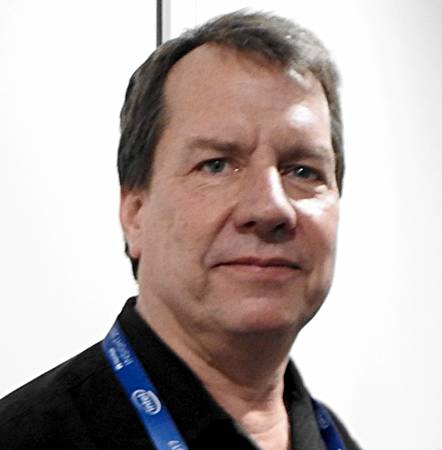 NetApp co-founder Dave Hitz
Dave Hitz said this could be worth $100 million a year and that NetApp did not imagine Microsoft was the only cloud provider that could value such a service.
Typically, hyperscale service suppliers – such as Amazon, Facebook, Google and Microsoft – buy in components and build their own hardware platforms, which are customised to run their software. It's cheaper to do this when building data centres at large scale, and the system performs better.
In this case Microsoft did not do this. It did not even buy in commodity hardware and run ONTAP software on that, as it could have done. Instead it bought full-scale ONTAP FAS arrays, just like any other enterprise buyer, and runs it on-premises. Oh, the irony.
Hitz said the ONTAP sold as software to run on commodity hardware is not quite the equal of of ONTAP integrated with FAS hardware in terms of data management service capability, and Microsoft needed the full house of ONTAP FAS filer facilities.
Microsoft wants enterprise customers to use its Azure cloud, and providing enterprise-class file services eases that migration, particularly for NetApp customers with NetApp's Data Fabric scheme being used – they could use the Azure NetApp kit as a replication target for example.
Having ONTAP FAS in Azure data centres also eases migration from Dell EMC (Unity) and other incumbent filer product suppliers.
Comment
The Greenqloud acquisition will help NetApp's hybrid cloud play, enabling orchestration at scale. The Data Fabric helps four different product lines – E Series, ONTAP, SolidFire and StorageGRID – be coordinated and integrated as platforms in a hybrid cloud environment.
It seems to us significant the Greenqloud and Plexistore technologies are not being made part of ONTAP. That laborious integration grind of the Spinnaker acquisition is not being repeated. Killing off FlashRay has turned out to be the right thing to do. Clustered ONTAP is now mainstream and the SolidFire-based HCI, launched in October, is exceeding initial expectations.
The problem areas in NetApp's product portfolio have been sorted out. Its hybrid cloud/Data Fabric story is being received well. The Azure deal surprised everybody and the Plexistor tech could give NetApp a significant technology lead. Who would have thought this possible just two years ago?
Back in 2015 George Kurian became CEO to cure NetApp's ills. By George, it looks like he's done it. ®