This article is more than 1 year old
A challenger appears: Specs for Samsung's potential Optane killer
Z-NAND has near-3D XPoint access latency and could scale capacity faster too
Analysis How does Korean flash and DRAM chipper Samsung's Z-NAND compare to Intel and Micron's 3D XPoint?
Z-NAND is Samsung's tweaked flash technology, thought to be SLC (1 bit/cell) with a customised controller to speed it up.
Optane is rushing Z-NAND to market adoption and it's a wide-open race.
One of XPoint's advantages over NAND flash was its lower access latency – 10μs for both reads and writes compared to 110-120μs for an NVMe SSD read. A 10x lower latency is a very nice thing to have.
Let's compare the performance of the Optane P4800X drive and Samsung's Z-NAND SZ985, both in add-in-card format and with similar capacities:
|   | Tech | Capacity | R/W IOPS | R/W bandwidth | Life | R/W Latency |
| --- | --- | --- | --- | --- | --- | --- |
| Optane P4800X | 3D XPoint | 750GB | 550K | 2.4/2.0 GB/sec | 41 PBW | 10/10μs |
| SZ985 | SLC NAND | 800GB | 750K/170K | 3.2/3.2 GB/sec | 42.7 PBW | 12-20/16μs |
The SZ985's endurance has been calculated from its 30 drive writes per day rating and assuming a five-year life.
The Samsung drive has a slightly higher random read IOPS rating than the P4800X, but it is far behind the Optane drive in random write IOPS. However it regains the advantage in the sequential read/write bandwidth area where it is 42 and 60 per cent faster respectively.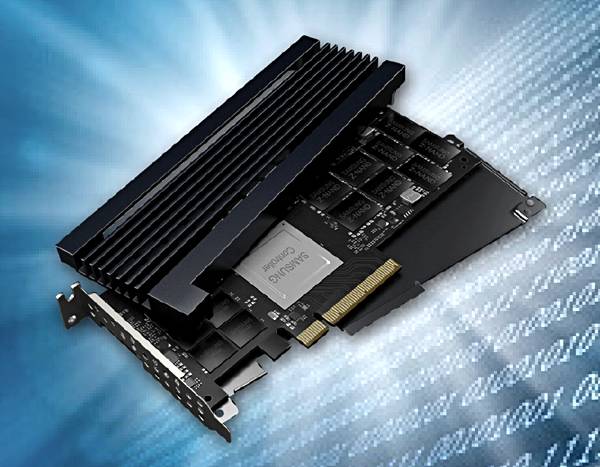 Samsung SZ985 drive
Endurance is a wash, if our calculation is correct, and Optane has a lower latency than the Z-NAND drive but not, Lord Almighty, by much.
The Z-NAND drive's worst case is 20/16μs read/write latency, which, in the general scheme of things, is still better than 110-120μs.
Samsung suggests it can be used to speed IO for databases like MongoDB. Its own testing of the RocksDB key:value store, which is a backend for MongoDB, says it increases throughput 2x and cuts latency in half compared to using Samsung's own PM1725a SSD, a 48-layer 3D TLC (3bits/cell) NAND product.
When used for caching with Memcached and Fatcache, it provides a 1.6x increase in throughput, again compared to the PM1725a.
Much will depend on pricing and availability plus software support. If Samsung can undercut Optane on price sufficiently, provide a reliable supply and demonstrate good system software support then it could severely cramp the Optane market.
We daresay that Z-NAND DIMMs might also be a good product area for Samsung, if it could get server OEM support and sort out any OS and system software issues.
NetApp, with its Plexistor server storage-class memory (SCM) acceleration project, is using both Optane and Z-NAND media in its testing. There's a race on between Intel/Micron and Samsung and the outcome is wide open. ®