This article is more than 1 year old
UK.gov to chuck an extra £2.3bn at R&D ahead of Budget
No. 10 promises billions (in a few years), doesn't address Horizon 2020
The government has announced an extra £2.3bn in research and development investment by 2021/22, ahead of the Budget this week.
That will bring the annual total to £12.5bn.
The government says that figure is set to increase to 2.4 per cent of GDP on projects by 2027 – with most of that figure provided by private sector spending – the current average Organisation for Economic Co-operation and Development level.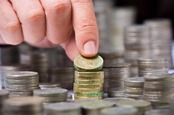 UK PM Theresa May's £2bn in R&D still a drop in the ocean
READ MORE
The commitment follows a request by the Science and Technology Committee, written by Norman Lamb, for increased public funding as part of a new industrial strategy.
However, Lamb criticised the current lack of a roadmap. The release today also failed to specify how the money would be spent.
The Campaign for Science and Engineering estimated the commitment of £2.3bn extra funding in 2021/22 will bring the total percentage of public R&D to 0.65 per cent of GDP.
A previous £2bn increase in public R&D investment, announced last year, increased public spend from 0.5 to 0.6 per cent.
Executive director Sarah Main said the body hopes to see continued incremental increases of public funds to make up around 0.8 per cent of RDP by 2027. "It is right this should be led with public funds, but without a proper roadmap in place properly considering business sector investment, the 2.4 per cent figure of combined public and private funds by 2027 remains wishful thinking."
Eventually the government said it wants to raise R&D spending to 3 per cent, although it did not commit to a timeframe. It claimed that would raise investment levels to that of the 1980s.
It will also set aside £1.7bn for "transport links and local growth", including £250m for better transport in the West Midlands the so-called "Midlands Engine".
Next Monday the government will release its Industrial Strategy White Paper, which will elaborate on the four so called Grand Challenges - AI and data, clean growth, healthy ageing and future of mobility. These are what the government believes will be key industries for the future where Britain will have an advantage, and therefore deserve additional resources.
One notable omission from today's statement is any mention of Horizon 2020, the €80bn (£71bn) EU science funding programme.
While the government has promised funding of research until the country leaves the EU, the Science and Technology Committee's letter asks the government to commit to continued funding after Brexit, either through Horizon's successor programme, or through alternate means. ®