This article is more than 1 year old
iPhone X: Bargain! You've just bagged yourself a cheap AR device
If you take the Apple shaped pill, you'll see things different(ly)
Apple fanbois being fanbois, Apple's new iPhone X isn't "super expensive" but rather "totally worth it". Or, as chief executive Tim Cook styled it, "a value price... for the technology you're getting".
Indeed, some have gone so far as to compare the iPhone's bloated price tag to overpriced coffee, arguing to this coddled consumer class that they can simply forego their joe to pay for the phone that Apple might declaim as "courageous" in every way.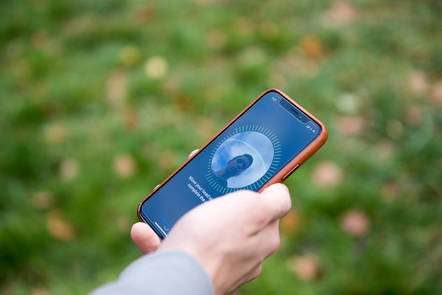 Tell it to our face...
And yet... these apologists for Apple's devotion to plump profit margins may have a point, though it's not the one they think. While the iPhone X is expensive as a smartphone (or even as a laptop), it starts to look positively prudent if we place it in the Augmented Reality (AR) category.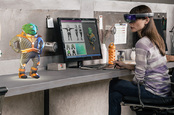 Microsoft's HoloLens secret sauce: A 28nm customized 24-core DSP engine built by TSMC
READ MORE
Here, compared to Microsoft's HoloLens ($3,000), not only does the iPhone X look cheap, but it also comes across as a much more credible, mass-market machine. With Apple CEO Tim Cook projecting that AR will become as common as "eating three meals a day", Apple's genius with the iPhone X may be in launching a device that, as it did with apps before, changes the nature of a phone into something much, much more... for relatively little.
Underselling an oversold future
Everyone has been climbing aboard the AR hype train, and Apple is no different. At its annual WWDC earlier this year, the company announced ARKit: "[A] new framework that allows you to easily create unparalleled augmented reality experiences for iPhone and iPad." Despite some nifty demos, Apple's somewhat understated approach failed to make waves.
Fast-forward to the unveiling of the new iPhones, and Apple's normally over-the-top salesmanship went MIA. With Apple, things are usually the "most advanced" or "unbelievable" or "incredible". Heck, even the rooms Apple presents in have become "the most state-of-the-art, purpose-built theater ever built". No ordinary conference centres for Apple!
But not at the iPhone X unveiling. This time, Apple's lack of AR hype left some onlookers puzzled. Robert Scoble, who now has other weightier problems than that photo of him showering with Google Glass, called Apple's AR ambitions: "Totally undersold... with [no] effort at explaining why Apple's new OS is bringing a new world to us." Others dubbed AR a "minor sideshow" to accompany Apple's iPhone noise.
And yet, and yet, the iPhone may be the most successful AR product ever launched, which isn't (yet) saying much, because the iPhone X could well launch AR as a bonafide category.
Apple's Tom Sawyer moment
Mark Twain's Tom Sawyer got others to whitewash his fence for him by pretending it was a fun task to be envied. In similar fashion, Apple has gone a different path than Samsung, Facebook, and Microsoft by sitting back and waiting on its developer community to build the Apple AR future. Microsoft has had a similar approach to encouraging a developer ecosystem to crop up around the HoloLens and similar headsets, but there's a difference: Apple's developer "headset" is the phone, and it's always with both the developer and her or his consumer target. That turns out to be a massive difference.
While rumours have surfaced about Apple AR glasses, mimicking the awkward headsets that Microsoft and others have released, Apple doesn't need weird headgear to launch a viable AR strategy. Instead, as with apps before, Apple just needs scale that can get developers interested in building on the iPhone platform. As for scale, Loup Ventures analyst Gene Munster estimates Apple will have 200 million AR-ready iPhones at launch, hitting 250 million before the end of 2017. Apple has AR scale covered.
What it has lacked is hardware, and the iPhone X (along with iPhone 8) takes care of this.
While Apple watcher John Gruber early on hoped Apple would launch a $1,500 phone "to see what Apple can do in a phone with a higher price," the reality is that Apple's best bet in AR is to do more with less.
For example, Apple's new A11 bionic chip for the iPhone 8 and X ostensibly is designed to power things like Apple's new neural engine (3D facial recognition), but also offers a 25 per cent speed boost over previous chips, thereby enabling robust AR processing. Add this to the 12Mp camera and you have a ready-made AR platform, ready for mass adoption. Yet Apple's hardware is not really what makes it an AR contender.
Unlike Google, Microsoft, or any of its competition, Apple can offer a tightly integrated software and hardware experience, and sell it at scale. Unlike an Oculus Rift or Microsoft HoloLens, Apple doesn't need to worry about sufficient platform adoption: all it needs is consumers to buy its phones, regardless of whether those same consumers are aware they're carrying around AR-ready platforms. Those consumers are the only incentive developers need to start building AR apps for Apple.
It's deja vu all over again
And they are. On YouTube, a host of ARKit-derived applications are on display, including everything from an IKEA app (super-imposing IKEA tables and such onto your home) to a Walking Dead app (that lets you invite zombies from the show into your neighborhood and then take shots at them).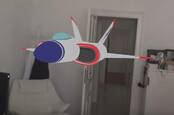 The harsh reality of Apple's augmented reality toolset ARKit: It's an incredible battery hog
READ MORE
If this sounds familiar, it's because it is. Though the iPhone originally launched without much of a third-party developer play, Apple quickly corrected this, and now sells tens of billions of dollars worth of apps each year, netting $20bn for developers in 2016 alone. Perhaps the closest analog to AR, however, is gaming, where Apple's iPhone entered a crowded market of specialised gaming consoles. Despite a lack of focus on games, Apple's iPhone had the advantage of being ever-present with consumers. Today, a large percentage of App Store revenue derives from games.
Not surprisingly, then, the biggest driver of the more than three million ARKit-only app installs have been for gaming apps, according to Sensor Tower research.
Microsoft, Samsung, Facebook, and other AR vendors may have more advanced technology, and perhaps can drive more immersive experiences. What they lack, however, is Apple's reach and its easy on-ramp for developers. That on-ramp promises to pay Apple a 30 per cent dividend on the billions of AR revenues this market promises to unlock.
In this way, Apple's strategy of building a general-purpose, mass-market AR platform, all while largely underselling just how potent it may prove to be, could prove to be a stroke of marketing genius. As with games (and apps) before, Apple doesn't need to build the most amazing hardware platform, or even to do all the software engineering itself. Rather, it simply needs to provide a compelling software and hardware bundle, with initial scale to entice developers and an App Store model to help them pay the rent. In short, it's the very pedestrian nature of Apple's platform - the phone everyone happens to carry with them - that makes it the likely winner in the AR wars. ®