Colorado watchdogs today hit Uber subsidiary Rasier with an $8.9m fine for allowing drivers with felony convictions and/or major moving violations to pick up folks using the ride-hailing app.
Rasier is the part of Uber that contracts with drivers.
The US state's Public Utilities Commission (PUC) identified 57 Uber drivers over the past year and a half who should have been weeded out through background checks before being allowed to pick up passengers. The fine reflects a penalty of $2,500 for each day a disqualified driver was allowed to work.
"We have determined that Uber had background check information that should have disqualified these drivers under the law, but they were allowed to drive anyway," said PUC Director Doug Dean in a statement. "These actions put the safety of passengers in extreme jeopardy."
Uber attributes the lapse to "a process error" the led the upstart to be out of compliance.
"We recently discovered a process error that was inconsistent with Colorado's ride-sharing regulations and proactively notified the Colorado Public Utilities Commission (CPUC)," an Uber spokesperson told The Register in an emailed statement. "This error affected a small number of drivers and we immediately took corrective action. Per Uber safety policies and Colorado state regulations, drivers with access to the Uber app must undergo a nationally accredited third party background screening. We will continue to work closely with the CPUC to enable access to safe, reliable transportation options for all Coloradans."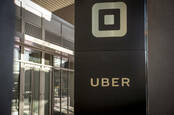 If you say it loud enough, Uber will sound atrocious: Super Cali juristic discrimination process
READ MORE
Uber works with a biz called Checkr to research drivers' pasts. Taxi companies generally go with Live Scan providers, which rely on the Feds' fingerprint database. Uber has insisted its approach is just as good – many of those who have sued Uber argue otherwise.
Cost aside, one of the ride-hailing biz's primary concerns at the moment is attracting drivers and keeping them, something made more difficult by stringent background checks.
Uber has been under fire for years over its background check procedures, and the issue has triggered numerous lawsuits. A complaint filed in San Francisco, California, last week criticized the company's screening process, citing findings by Massachusetts regulators in April that 8,206 Uber and Lyft cabbies out of more than 70,789 should not have been allowed to drive for the app makers. Of these, 1,599 had a history of violent crime and 51 were registered sex offenders.
In 2014, the District Attorneys of San Francisco and Los Angeles sued Uber in part for misrepresenting the quality of its background checks on drivers. Two years later, Uber settled that claim for $25m. ®