This article is more than 1 year old
CEO: 'Claying the ongoing continuous chaos of info into one logical masterpiece'
Yeah? Us neither. Here's another 'anchored benchmark' of a storage round-up
We start this week's collection of storage news with the marketing buzzwords of the month award, which goes to startup Panoply for outstanding excellence.
Panoply emerged from stealth in late 2016 and now wants to announce general availability of its data warehouse product. It exclaims that, after four decades of stagnation in the data management industry – is this a realistic claim by the way? – it has the world's only Smart Cloud Data Warehouse, which is cloud-native, fully self-driving and autonomous.
Right.
The marketing buzzwordery in Panoply's release is exquisite to lovers of the genre, with the product described as "a frictionless, self-serve data-management experience without the need for human intervention – a previously unaccomplished feat".
Er, having a self-serve data-management experience without human intervention sounds contradictory to us. Isn't self-service a human thing? Yah, what do we know?
The company says it has a unique architecture based on machine-learning algorithms. Some 70 per cent of its 100 customers were able to ingest and optimise petabytes of data in real-time.
If you want to check out these huge claims then read a Panoply blog post. The blog says the product is "an autonomous machine learning data warehouse that doesn't require human beings to either manage or tune the database".
Then it says: "General availability is an anchored benchmark in Panoply's growth." Er... lost in translation maybe?
Then get this quote from Yaniv Leven, CEO of Panoply: "It's a learning machine, forging the rules of its universe, claying the ongoing continuous chaos of information into one logical masterpiece."
And: "Today we are taking the first viable step towards IT futurist Ray Kruzweil's 'Singularity' concept in analytics infrastructure with Panoply."
These people are either totally crazy or they have a great product. Crunchbase shows Panoply was founded in 2015 and has had a seed and two A-rounds bringing in $14.3m of funding, with Intel Capital among the investors.
Maybe the company is not totally crazy after all. Try the product free for 21 days here.
Flash and hard disk drive shipments compared
Wells Fargo analyst Aaron Rakers reports that, looking at enterprise HDDs and SSDs, the SSD momentum continues. Enterprise HDD capacity shipped totalled 66.32 exabytes in 3Q17, up 10 per cent year-on-year, in which nearline/high-cap HDD capacity shipped grew at 12 per cent year-on-year to 61.8 exabytes and mission-critical enterprise HDD capacity shipped declined by 6 per cent year-on-year and sequentially to approximately 4.5 exabytes.
This compares to total enterprise SSD capacity growing by 86 per cent year-on-year at 7 exabytes; equating to approximately 17 per cent of total Flash capacity (versus 12 per cent a year ago).
From a pricing ($/TB) perspective, he highlights that enterprise SSD $/TB increased to approximately $504/TB, which compares to nearline/high-capacity HDDs at approximately $30/TB or implying a 17x SSD versus HDD premium; currently ~3.7x premium for mission-critical HDDs.
Enterprise SSD revenue totalled approximately $3.525bn in 3Q17, according to IDC's estimates, which compares to total enterprise HDD revenue at approximately $2.43bn ($1.83bn in nearline/high-cap HDDs).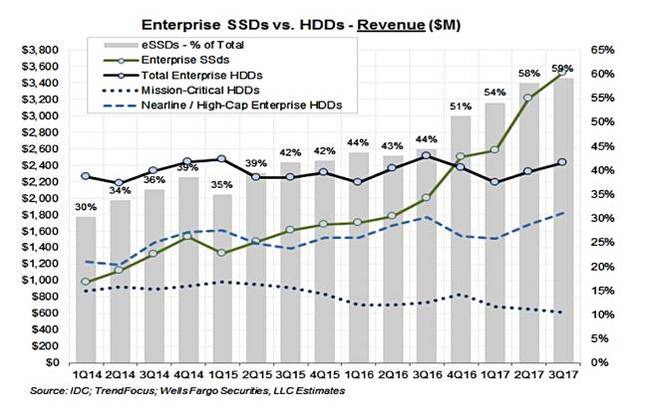 Enterprise HDD and SSD revenue
GDPR
Egnyte has stepped aboard the GDPR (General Data Protection Regulation) train, talking about the coming set of regulations catalysing the market. Its Egnyte Protect product provides compliance across all 28 EU countries. It looks inside the data it protects to detect PII (Personally Identifiable Information), such as national ID numbers, bank account numbers, and national healthcare numbers, which are unique to individual countries.
The product detects PII in all 24 official languages found throughout the EU, from Bulgarian to Swedish, and checks both on-premises and public cloud stores,including Amazon Web Services, Microsoft Azure, Google Cloud Storage, and others.
GDPR regulation comes into effect on May 25, 2018, and provides a set of rules and regulations concerning PII information storage and EU residents. Any global business operating in the EU that fails to comply faces fines of up to €20m or 4 per cent of global revenue.
That is a great selling message for data-management companies who say that businesses must know every storage repository that can hold PII. Companies like Storage Made Easy, providing a kind of multi-vault storage catalogue and management product are in a good place to say they can provide the across-the-board visibility needed.
Boldon James has launched a Box Classifier which extends its data classification into Box repositories so that the data's classification value can determine which customer-wide protection policies apply to it, and control the sharability of Boldon Jame's classified documents in Box.
It can also prohibit the exposure of highly sensitive data, such as PII, PHI or ITAR controlled data, which is the GDPR angle. Grab yourself a data sheet here.
Acquisitions
Private equity house K1 Ventures has bought enterprise information archiving supplier Actiance, rated as a visionary in Gartner's EIA magic quadrant. It will integrate Actiance with competitor Smarsh, which K1 bought for $215m last year.
Actiance has communications compliance, archiving, and analytics technology, while Smarsh has archiving products for compliance, e-discovery and risk management; you can see the fit, with compliance, analytics and archiving a focus area.
K1 says the combined Actiance/Smarsh company will serve more than 6,500 financial services firms – including the top 15 global banks and regional, mid-size banks and broker-dealers – as well as government agencies and organisations in other regulated industries. All these customers are being hit by regulations to stop them misbehaving; SEC and FINRA standards, MiFID II and, of course, GDPR, so compliance verification is big news.
Partnerships
Data protector Acronis is integrating its software with Autotask. Service providers will be able to provision and manage Acronis Data Cloud data protection services directly from the Autotask console. Autotask provides Professional Services Automation (PSA) software. This builds upon Autotask's existing Acronis Backup Cloud support.
Aparavi's open format software-as-a-service platform has been certified for use with Wasabi's hot storage service. When used with Aparavi, users can dynamically select Wasabi from within the Aparavi SaaS platform to meet compliance regulations and gain long-term data protection within a single cloud repository or as part of a multi-cloud storage architecture.
BlueData, a Big-Data-as-a-service supplier, has extended a partnership with Dell EMC by signing a reseller deal for its EPIC software, which uses Docker containers on Dell EMC kit, which it will also sell.
BlueData will be included in the Dell EMC price list and configurator for its global sales teams and channel partners.
The EPIC software has the ability to spin up instant clusters for Hadoop, Spark, and other Big Data tools in a secure multi-tenant environment. Dell Technologies Capital was an early investor in BlueData and sits on its board.
Compuverde, which makes software-defined vNAS and object storage, is partnering with file management company Data Dynamics to manage data assets from migration to file tiering to archival, and provide APIs for storage management automation and orchestration. More info here. Data Dynamics is contributing its StorageX v8.0 product, which can transform files into native object storage format, while providing direct access to them.
Microsemi says its Adaptec 12Gbits/s SAS/SATA HBA 1100 is interoperable with Cavium's ThunderX2 ARM CPU.
File sync and sharer Panzura is partnering with Frame to provide global, real-time collaboration capabilities for virtual workspaces with virtual desktop services accessed by browser. Frame offers a secure cloud workspace platform with Panzura's Freedom product delivering ubiquitous access to data in these workspaces.
Arcitecta has integrated the Spectra BlackPearl Converged Storage System and Spectra Verde NAS product with its Medaflux Data Management platform. This is described as an operating system for metadata and data enabling distributed groups of people to share, manipulate and manage any type of data.
Veeam is partnering with Cristie Software to expand its protection coverage to UNIX workloads, in addition to its current spread of virtual, cloud and physical servers. It's a minor addition in the great scheme of things but does bring in support of IBM AIX and Oracle Solaris.
WDC is partnering with Globus to integrate Globus's research data management software with WDC's ActiveScale object-based storage (OBS) system. Globus has produced an ActiveScale connector and aims to store Big Data analytics data on the WDC disk archive box.
Customers
The University of Tennessee is using 1.1PB of DDN GS14KX parallrl file system storage to help support research in CFD, machine learning, molecular biology and smart cities. The university's Center of Excellence in Applied Computational Science and Engineering (SimCenter) is implementing a number of smart city test beds connecting to the DDN system, with machine-learning algorithms taking advantage of the near real-time data. The DDN hardware supports a Dell EMC HPC cluster with GPU hardware.
Rozo Systems says Umedia – a vertically integrated film group with 160 staff based in London, Brussels, Paris, Vancouver, and Los Angeles – has bought RozoFS, its software product running on commodity x86 servers.
People
Rick Ruskin has moved from being VP for North America channel sales at Kaminario to become SVP worldwide sales at Violin Systems, the renamed Violin Memory.
Shorts
FileCloud has made its EFFS service avaialable on AWS GovCloud (US), with file sharing, synchronization across OSs and endpoint backup. It allows federal, state and city agencies to run their own customised file sharing, sync and backup solutions on AWS GovCloud (US).
Storage Made Easy has announced ForeverFile, an archive and ransomware protection feature for its enterprise File Fabric product. It works by continuously archiving data in real-time from one data store to another.
Veeam announced general availability of its Veeam Availability Console, a free management console for service providers delivering Veeam-powered services, such as backup and disaster recovery as a service to manage, track and invoice for these services.
Waterline Data's Smart Data Catalog v4.03 replaces manual tagging of metadata with an automated process that classifies all data assets, including new data as it's created, while determining data lineage. It uses machine learning and crowd-sourcing.
And finally
We hope that reading this anchored benchmark in weekly storage news reporting has been a frictionless, self-serve data-understanding experience of claying the ongoing continuous chaos of information into one logical masterpiece. Good luck with that. ®