This article is more than 1 year old
HPE CEO Meg Whitman QUITS, MAN! Neri to replace chief exec in Feb
Stock tumbles, sales sag, profits wiped out, boss ejects
Hewlett Packard Enterprise boss Meg Whitman is stepping down, and will be replaced on February 1 by company president Antonio Neri.
Neri, a 50-year-old engineer turned executive who we described as a CEO-in-waiting, will take the chief exec throne while remaining HPE president. As of right now, the US tech goliath's stock is down roughly six per cent in after-hours trading to $13.29 apiece.
"I've said for many years that the next leader of HPE should come from within the company, and Antonio is exactly the type of leader I had in mind," Whitman told financial analysts on a conference call today, adding that the board of directors had approved the handover of power.
"The next CEO of this company needs to be a deeper technologist. There has not been a change in sentiment [at HPE]. Antonio is ready to take the reins and go the distance. I think it is absolutely the right time for Antonio and a new generation of leaders to take the reins."
Regular Reg readers will recall that back in 2013 she said her successor is already working at the company.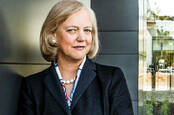 What's HPE Next? Now it's unemployment for 'thousands' of staff
READ MORE
Whitman was earlier this year rumored to be a potential future boss of Uber. However, her spokespeople dismissed the speculation, saying Whitman "plans to stay with the company until her work is done." Presumably, she's now done everything she can.
Which, by the way, included launching in June HPE Next, a radical overhaul of the business with thousands of staff laid off, and various processes, investments and overheads streamlined to maintain profitability.
HPE was formed in 2015 when Hewlett-Packard split in two: HP Inc, which sells printers and PCs; and Hewlett Packard Enterprise, which flogs servers and other data center gear. Whitman was installed as HP's CEO in 2011, became HPE's CEO post-split, and until July this year was president of HP Inc.
Gradually, she has been disentangling herself from the world of Hewlett-Packard, the Uber gig didn't work out as expected – Dara Khosrowshahi got the job – so come February, Meg will be off to spend more time with her money, er, family and other projects. Her annual compensation package in 2016 was valued at just over $32m, and her net worth is an estimated $3.1bn.
Not bad for someone who axed more than 100,000 employees in her time, by our calculations, and whose corporate turnarounds never really hit the mark. Given the state of HP in 2011, it would have taken a minor miracle, though. Today, HPE employs about 50,000 people.
"I'm incredibly proud of all we've accomplished since I joined HP in 2011. Today, Hewlett Packard moves forward as four industry-leading companies that are each well positioned to win in their respective markets," Whitman, 61, said in a statement today.
"Now is the right time for Antonio and a new generation of leaders to take the reins of HPE. I have tremendous confidence that they will continue to build a great company that will thrive well into the future."
Brand-width
Under Whitman, HPE gobbled up Aruba, SGI, SimpliVity and Nimble Storage, upped R&D spend to $3.5bn after ex-CEO Mark Hurd reduced spending, and wedged cash back into shareholders' pockets. She was previously a brand manager at Procter & Gamble, a Disney veep, and was an early CEO of eBay.
Meanwhile, Neri started at HP as a customer service engineer, and rose through the ranks over the course of 22 years, becoming HPE president in June this year.
"The world of technology is changing fast, and we've architected HPE to take advantage of where we see the markets heading," Neri gushed today. "HPE is in a tremendous position to win, and we remain focused on executing our strategy, driving our innovation agenda, and delivering the next wave of shareholder value."
Reflecting on the changes at the top of HPE, Charles King, principal analyst at Pund-IT Inc, told us:
For all intents and purposes, Whitman's departure is being managed and positioned as an orderly transfer of power. Despite being disclosed during one of the slowest news weeks of the year, the announcement arrived weeks before her actual departure. Her replacement, HPE president Antonio Neri, is from the company's bench. Whitman will retain her seat on HPE's board of directors.
That's considerably different than the treatment past HPE CEOs have been accorded, including Carly "don't let the door hit you on the way out" Fiorina and Leo "here's your hat, what's your hurry" Apotheker. Then again, HPE announced Q4 results that showed the company enjoying sizable year-on-year gains. That's far from the sense of crisis enveloping the company at the end of Fiorina's and Apotheker's reigns.
How HPE will look moving forward is anyone's guess. Over the past two years, Whitman has mainly managed continual sales of company assets and sizable layoffs. The spinoff of the company's PC and printer businesses, a strategy she copped from Apotheker, looks less sensible today than it did in 2015. When or whether the company will eventually stabilize and succeed is still some time in the future. Today, HPE is company weaker and less formidable competitor than it was when Whitman became CEO.
As well as today's news on Whitman's departure schedule, HPE announced its fiscal fourth quarter and full-year financial results. Here's a summary of the three months to October 31:
Revenues hit $7.7bn, up 4.6 per cent year-on-year, and $50m better than Wall Street predicted. According to HPE's beancounters:

Enterprise Group revenue "was $6.9bn, flat year over year, up 1 per cent when adjusted for currency, with a 10.6 per cent operating margin. Servers revenue was down 5 per cent, down 5 per cent when adjusted for currency, Storage revenue was up 5 per cent, up 5 per cent when adjusted for currency, Networking revenue was up 21 per cent, up 21 per cent when adjusted for currency, and Technology Services revenue was up 2 per cent, up 3 per cent when adjusted for currency."
Financial Services revenue "was $1bn, up 24 per cent year over year, net portfolio assets were up 1 per cent, and financing volume was flat year over year. The business delivered an operating margin of 7.7 per cent."
The difference in revenue, by the way, is due to HPE dumping its software arm.

Operating margin down 10.8 points to 2.9 per cent.
Net earnings rose 16 per cent to $400m.
Diluted earnings per share were 23 cents, up 21.1 per cent, and slightly better than analysts' expectations.
And for the full fiscal year, the twelve months to October 31:
Revenues dropped 4.7 per cent, year on year, to $28.9bn.
Operating margin stood at 2.2 per cent, down 10.7 points.
Net earnings plunged 86 per cent to $344m from $3.1bn. The dip in revenues plus restructuring costs wiped out HPE's profit, essentially.
Diluted earnings per share were 26 cents, down 86 per cent.
For the next quarter, the biz estimates its earnings-per-share will be three cents below analysts' estimates, further driving down the share price.
Finally, Whitman told investors her biz took a $93m hit due to Hurricane Harvey smashing into its facilities in Houston, Texas. As a result, the tech giant is moving manufacturing operations out of the city and over to Chippewa Falls in Wisconsin as well as overseas. ®