FalconStor has confirmed its first profit in more than two years, bagged fresh funding and employed a new bunch of new faces in its exec lounge.
CEO Todd Brooks, who arrived in August, claimed changes are underway for the software-defined storage developer.
Revenues in its third 2017 quarter ended 30 September were $6.1m, 17 per cent less than a year ago and 9 per cent down on the previous quarter – not so good. Net income was $1.4m, compared to the year-ago loss of $2m and the previous quarter's $600k loss.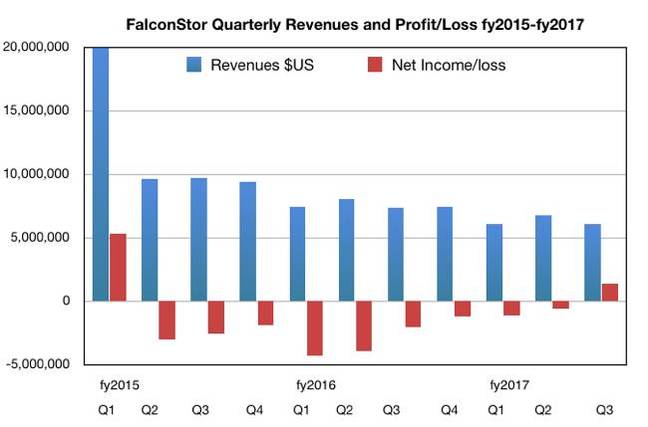 Recent FalconStor revenue and GAAP net income history
Get your tiny violins out: Troubled FalconStor has flown the Nasdaq coop
READ MORE
In the earnings call, the first one for Brooks, he said he and CFO Pat McClain had "both spent a significant amount of time and significant portions of our careers working and rebuilding mature enterprise companies like FalconStor."
"While the company has certainly struggled over the last several years, it's my sincere view that FalconStor still has the opportunity to excel and deliver long-term value to its shareholder base." Succeeding as a company and delivering value to shareholders are two different things. Just ask IBM.
OK. What's he doing to ensure a smooth lift off? Brooks has assembled a leadership team, cut the expense base, and claimed he is "re-engaging" with partners and customers, and securing requisite financing.
HCP-FVA, an affiliate of Hale Capital Partners, is set to buy $3m of FalconStor's "units" (a form of stock) in a private placement with another $11.08m of stock available. The storage firm has also got a $500K short-term loan from Hale Capital. Hale is FalconStor's largest stockholder and an affiliate of FalconStor director, Martin Hale.
One-time Dell exec Carter McCrary was named veep of global revenue in August, and the recruitment of an engineering veep is expected by the end of the year.
Expense-wise, Brooks said a "strategic restructuring launched earlier in 2017 and additional efforts we have implemented this quarter have produced a return to profitability for FalconStor."
This was a necessary first step but the CEO added, "a significant amount of work remains to translate our operating profits into positive quarterly cash flow."
He asserted: "Mature enterprise software companies can only create commercial stability by returning to [an] installed base focus."
Chief bean counter McClain said:
"Bookings .. trended lower at $3.5m against $3.9m for Q2. Our expectation is that bookings and resulting revenue will stabilise over the next few quarters as we re-engage our customer base and implement our refocused commercial strategy."
Brooks claimed product roadmap development will follow discussions with partners and customers about how FalconStor can deliver more money in their back pocket.
The execs seemed to think the FreeStor product is broadly good enough, covering ground that needs two or three competitors' products to cover, so significant innovation is not needed straight away. Really?
Some existing problems in the product will get cleared up and then roadmap development can get underway, execs estimated. So it would seem there is a long way to go for FalconStor. ®