Iranian military hacker fingered for 'Game of p0wns' HBO leak
Dept. of Justice lamely says 'winter is coming' for Behzad Mesri, aka 'Skote Vahshat'
---
The United States' Department of Justice has identified a suspect in July's attack on Home Box Office, naming an Iranian national, Behzad Mesri, in an indictment unsealed Tuesday, November 21.
Announcing the charges, acting Manhattan US attorney Joon Kim said Mesri is "had previously hacked computer systems for the Iranian military".
HBO acknowledged the breach in late July, after the attacker began leaking news of an exploit after the broadcaster didn't pay the US$5.5 million (in Bitcoin) ransom, later incresaed to $6 million.
While working for the military, the indictment [PDF] claimed, Mesri conducted attacks on "military systems, nuclear software systems, and Israeli infrastructure". He also stands accused of being an occasional member of the hacking collective "Turk Black Hat Security". As a "Turk Black Hat", the indictment said he took part in Website defacements using the handle "Skote Vahshat".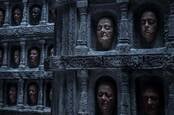 Game of Pwns: Hackers invade HBO, 'leak Game of Thrones script'
READ MORE
In his hack-and-extort campaign against HBO, Mesri identified locations the company's staff used for remote access, compromised "multiple user accounts" of staff and contractors, and from there, logged into HBO's systems, the indictment said.
His haul allegedly included episodes of Ballers, Barry, Room 104, Curb Your Enthusiasm and The Duce, but from Mesri's point of view the jewel in the crown was "scripts and plot summaries for unaired programming" including Game of Thrones episodes. The attack also yielded financial documents, one employee's e-mails, and social media account credentials.
What's missing in the announcement is Mesri himself: he's not in the US, so there's no arrest at this point. Kim said: "Mesri now stands charged with federal crimes, and although not arrested today, he will forever have to look over his shoulder until he is made to face justice". He also added the following obligatory GoT reference
"For hackers who test our resolve in protecting our intellectual property - even those hiding behind keyboards in countries far away - eventually, winter will come."
®
Similar topics
Broader topics