Under par: HPE 3PAR US sales are limping
Not so, er, Nimble in the area
---
Comment Did HPE shoot itself in the foot with US 3PAR push? Its fourth quarter results showed storage revenues grew slightly but with sales in the US of the tech limping in a quarter with sales organisation changes.
Storage revenues were $871m, up 5 per cent from the $827m of a year ago. In the HPE earnings call, CFO Tim Stonesifer said: "Storage revenue was up 5 per cent driven by the Nimble acquisition. All-flash arrays grew 16 per cent year-over-year with Nimble, up over 80 per cent, which continues to outpace expectations."
Hold on, what does that mean for 3PAR AFA and, indeed, 3PAR, revenues?
Stonesifer said: "3PAR performance was soft due to a tough competitive environment in the mid-range and some go-to-market challenges in America."
Departing CEO Meg Whitman mentioned "some sales challenges in the United States," adding, "Outside the storage challenge in the US was largely around not enough specialists in the field and frankly we need more scale in our storage sales here."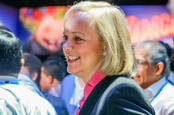 HPE CEO Meg Whitman QUITS, MAN! Neri to replace chief exec in Feb
READ MORE
What is being done to fix this issue? Stonsifer said: "We are addressing these challenges head-on by bringing together the Nimble and 3PAR sales team under a new leader, Keegan Riley, who led sales at Nimble, and [we] are aggressively hiring more storage specialists for the field."
Whitman said: "Phil Davis, who is our new Head of Sales, comes from a storage background. So, I think you will naturally see him pivot harder to storage than perhaps some of our earlier sales leaders. And so I think you will see improvement in the US. And by way, we did very well in EMEA, very well in APJ. So, I think you will see an improvement in the US in the storage space."
Actually sales force changes have been happening already.
The CEO said: "In Q4, we've already begun implementing the sales changes. I mean those are done – actually we started in November 1, with a lot of changes – but we did a lot of changes in Q4 as well. We dismantled actually the region overhead structure, we refocused our sales force, we put more specialists in the field and we saw no impact to frontline sales from those changes that we made in Q4."
So 3PAR sales in the US suffered, yet Whitman said: "we saw no impact to frontline sales from those changes that we made in Q4."
Well, actually, possibly not – there were reduced 3PAR sales in the US.
Quite likely HPE's own sales restructuring damaged 3PAR sales there.
The new sales organisation and extension of InfoSight to 3PAR should turn things around, Stonesifer said he's hoping that this happens "quite quickly". ®