Linux overlord Linus Torvalds has apologised – a bit – for calling some security-centric kernel contributors "f*cking morons".
Torvalds unleashed a profanity-laden rant at Google developer Kees Cook over the latter's proposal to harden the kernel.
Another Google security chap, Matthew Garrett, asked Torvalds: "Can you clarify a little with regard to how you'd have liked this patchset to look?"
To which Torvalds responded that "I think the actual status of the patches is fairly good with the default warning."
"But what I'd really like to see is to not have to worry so much about these hardening things. The last set of user access hardening really was more painful than it might have been."
His next paragraph made the matter personal, as follows:
And largely due to that I was really dreading pulling this one – and then with 20+ pulls a day because I really wanted to get everything big merged before travel, I basically ran out of time.
Torvalds explained that was because "the 4.15 merge window actually ended up bigger than I expected. I was perhaps naive, but I expected that because of 4.14 being LTS, this release would be smaller (like 4.9 vs 4.10) but that never happened."
"So where I'd really like to be is simply that these pulls wouldn't be so nerve wracking for me. And that's largely me worrying about the approach people are taking, which is why I then reacted so strongly to the whole 'warnings came later'."
He finished with "Sorry for the strong words."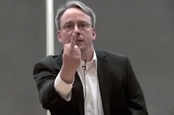 Some 'security people are f*cking morons' says Linus Torvalds
READ MORE
Linux is of course massively successful and has well and truly demonstrated that its development process can produce innovation even if its lead developer works from home in a bathrobe and doesn't shower until after noon.
Yet it's not hard to interpret Torvalds' comments as an admission he's become a bottleneck, at least for this release of Linux. But a bottleneck with the right idea: his posts about Cook's proposal have been well-received as suggesting a sensible approach to software development. ®