Analysis InfiniBand/Ethernet tech supplier Mellanox is being targeted by an activist investor pissy that it rejected overtures from Marvell.
Starboard Value has bought a 10.7 per cent holding in Mellanox, wanting to influence the company's management to create more value for shareholders (increase share price so we can make a profit).
This activist has been involved with Yahoo! and helped precipitate CEO Marissa Mayer's departure.
A Starboard Value SEC filing states that Mellanox shares are undervalued and claims there is a "growing disparity between [Mellanox's] margins, growth, and stock price performance compared to its peer group".
Peter Field is a principal at Starboard Value and also a director of Marvell Technology Group, which is buying Cavium for $6bn and competes with Mellanox in some product areas.
The SEC filing says:
In the past, Marvell has expressed an interest in discussing with the Issuer [Mellanox] a potential strategic transaction on a negotiated friendly basis. The Issuer has declined to enter into any such discussions.
The Starboarders argue that "tremendous value can be created through operational improvements or other strategic alternatives".
Mellanox's board and management told Reuters the company "welcomes the input and investment" from its shareholder and we continually "review our operational and strategic priorities and are committed to acting in the best interests of our shareholders".
Mellanox was founded in 1999 by CEO and president Eyal Waldman and eight others, going public in 2007. It bought Voltaire and its data centre switches in 2011, and has made several other technology acquisitions since then. Its main technology is InfiniBand with high-speed Ethernet accompanying it.
A look at Mellanox's revenue and net income over the past three years and stock price history does not show the classic long-term decline we tend to associate with with activist investor targets, such as Imation or Quantum.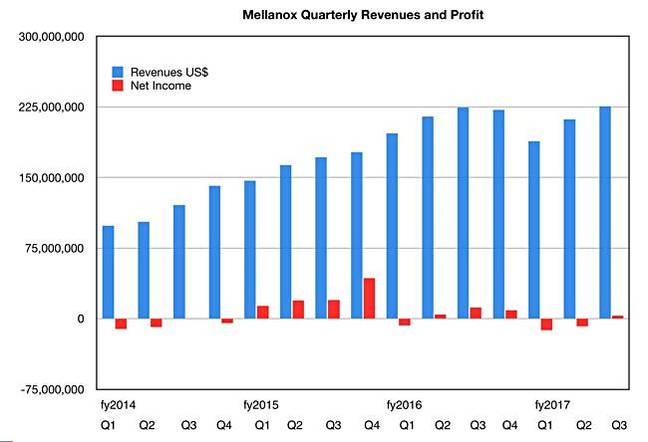 However, Mellanox's growth stopped in the fourth 2016 quarter, when Waldman said in the earnings call: "We are experiencing a slowdown from some of our large hyperscale customers, which contributed to the flat total revenues for the fourth quarter and a slight down-guidance for the total first quarter of 2017 revenues. We see 2017 as another year of growth for Mellanox."
But it didn't start that way. Revenues failed to recover in the first quarter. Waldman then said: "InfiniBand revenues were down year-over-year, impacted by delays in the general availability of next generation x86 CPUs, seasonal trends in high-performance computing, and technology transitions occurring across several end users and OEM customers.
"We believe InfiniBand has maintained share in HPC, and expect revenues will see sequential growth in the coming quarters driven by current backlog and additional pipeline opportunities."
OK, a bad blip and revenues have grown sequentially since then. Mellanox is no Imation or Quantum.
Its stock price history doesn't show the multi-year decline associated with typical activist investor targets either: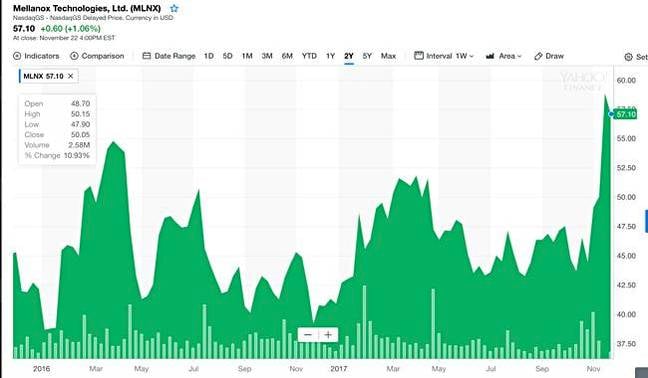 It does show a recent spike when news of the Starboard investment broke.
It appears Starboard Value thinks Mellanox shareholders would be better served if it became part of a Marvell bulked up by Cavium, reflecting the consolidation view that big is better in the semiconductor world, even though Mellanox is fabless.
Starboard bought into Marvell in February this year. Marvell added fresh board members in April, with the CEO and president, husband-and-wife co-founders, stepping down.
Given Starboard's history, Waldman could be joining them. ®