This article is more than 1 year old
Another way to avoid eye contact: 4G on the Tube expected 'in 2019'
Summer tests show mobile signal on all trains is possible
Transport for London promises to have 4G mobile coverage on the London Underground during 2019 following successful tests this summer.
The trial on the Waterloo and City line, which took place overnight during engineering hours, ended with a contractor making the 1.5-mile journey through the UK capital with "uninterrupted data coverage".
All four major network operators were involved in designing the trial, but Vodafone and O2 carried out the test itself.
TfL said that the tests showed "potential to remove one of the UK's most high profile 'not-spots'."
Speaking to The Register about what the trial meant for future development, a TfL spokesperson said: "The trial provided valuable insight into how this technology could be introduced more widely onto the Tube. It also allowed us to practice laying new fibre cables within stations and tunnels, which will be crucial for other elements of TfL's wider digital connectivity strategy."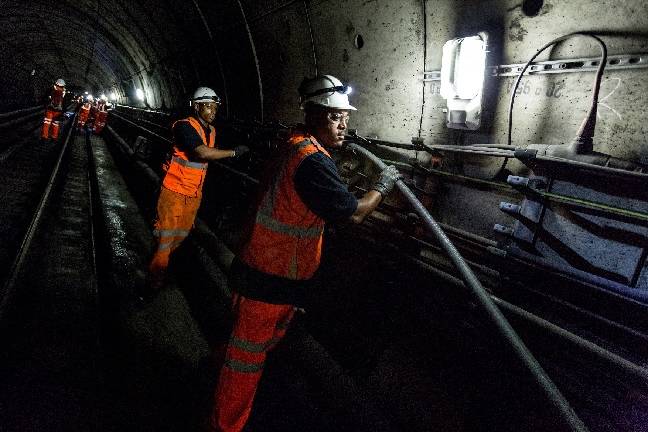 Cables being installed in the Waterloo and City line tunnel
4G technology is also important for creating the new Emergency Services Network (ESN), and making coverage available on the Underground is another priority for TfL. The spokesperson added: "We are coordinating the delivery of 4G on the Tube with the Emergency Services Network project to ensure that, where practical, infrastructure is designed and installed for use across both projects."
While stating that the contract to be TfL's 4G service partner was "still subject to discussion", TfL said that it planned to have a company on board in summer 2018, with rollout starting six months later. "Our expectation is that a commercial partner will cover the capital and operating costs of the telecoms operation and would provide a revenue share for us.
"As part of [tendering for the contract] we will require any bidder to allow access to all operators."
TfL already offers Wi-Fi across all but a few of its Underground stations. The service is operated by Virgin Media, but is free to use by customers of the four mobile network operators.
According to the Financial Times, mobile operators welcome the opportunity to tender for the contract, but are concerned about TfL's intentions for paying costs and sharing revenue. ®