nbn™ pauses hybrid fibre-coax build and will fix current connections
Billions spent on networks not fit for purpose, cabling may be to blame
---
+Comment nbn™, the company building and operating Australia's National Broadband Network (NBN), has announced that it will remediate parts of its hybrid fibre-coax and pause new rollouts
The company's not said what needs remediation, offering only "wholesale connector replacements, signal amplification calibration, and lead-in work as required" as the reasons for what it has termed "new initiatives aimed at raising the standard of service quality when declaring the Hybrid Coaxial-Fibre (HFC) network is 'ready to connect' (RTC)."
"NBN Co management said that while it was pleased that many end users served over its HFC network were satisfied, too many were not having the experience they deserve when getting connected and some were not experiencing the full potential of the network," said a statement from the company. The statement added that the pause of HFC rollouts will mean delays for some installations, the company remains on track to complete its installation work by the year 2020.
What's wrong?
The Register has asked nbn™ to explain the issues that necessitated the pause. If the company responds, we will update this story.
But your correspondent's own experience may indicate where the problem lies, as my home's HFC NBN connection died a few weeks ago.
The technician who repaired it immediately re-terminated all four of the HFC cable connections in my home. He clearly knew this to be a likely source of problems.
I asked why and he explained that the cables nbn™ used are wrapped in an aluminium braid and that stray metallic fibres sometimes came into contact with the copper core and messed with signal.
A new connector on the internal wall socket immediately restored service: this story was typed on a connection advertised as offering 100mps/40mbps upload/download speeds and according to speedtest.net currently delivering 39mbps/30mbps.
nbn™'s Orwellian antics
Whatever the issues nbn™ intends to address, pausing the HFC rollout is hugely significant for three reasons.
Firstly, it shows that nbn™ paid too much for HFC networks about which it knew too little. The company paid Optus AU$800m and had to scrap that network. nbn™ also paid Telstra $11bn for its copper and HFC networks. With HFC accounting for about three million NBN connections, from a total of eight million, it is clear that nbn™ paid billions for Telstra's HFC but did so without a proper understanding of what it would take to operate the network in its early years when it would have to carry traffic for nbn™, Telstra and Foxtel.
To scope one network as fit for broadband, pay overs for it and then find it can't do the job may be regarded as misfortune. To do it twice looks like carelessness. It also looks like a reckless use of public funds that will make it hard for senior nbn™ staff to explain ... and maybe to survive.
Secondly, Telstra won a contract to maintain the HFC network it sold to nbn™. That factoid creates a very sticky mess indeed as it means Telstra is therefore now in the frame for the NBN's failings, both for its maintenance works and possibly for its representations of its networks' capabilities. nbn™ may have recourse to the courts and what a fun time Telstra vs. nbn™ would be!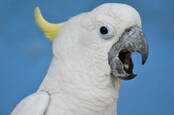 Birds are pecking apart Australia's national broadband network
READ MORE
Lastly, the pause is nbn™'s first significant mea culpa. In recent times the company, and Australia's government, have blamed retail service providers for slow network performance, installers for poor end-user experiences and Australia's previous government for missed deadlines and cost overruns.
But nbn™ has eaten responsibility for this one and in doing so earned a big black mark against its expertise and competence that will provide critics with endless ammunition. The costs of the repairs will also be closely watched, lest they bring the total cost of HFC connections close to a fresh fibre-to-the-premises installation.
Not helping matters is that the company's spin on its announcement – which is titled "NBN Co takes customer experience improvement program to new levels" – is a vastly eloquent piece of DoubleSpeak that probably has the estate of George Orwell asking for royalties.
The company has offered no timetable for remediation work or explained exactly what the pause will mean for its overall rollout. Those waiting for connections have been advised to keep an eye on the nbn™ website for new information about their likely connection date. ®