HPE and ABB, sitting in a tree, doing lucrative industrial IoT
What first attracted you to the industrial Internet of revenue-generating things?
HPE has an Internet of Things alliance going with industrial giant ABB with the two pushing industrial IoT to make smarter, more efficient industrial products.
ABB is ASEA Brown Boveri, a Global 500 company head-quartered in Switzerland, and one of the world's largest engineering companies. It makes heaving electrical gear, power generators, robotic equipment and automation tech, making $33.8bn last year and employing 132,000 people.
HPE and ABB have a previous form here; ABB building data centres using direct current, instead of AC, and HPE designed high voltage, DC-enabled servers and storage systems for this.
HPE also has Edgeline IoT systems which provide compute, storage and gateway connectivity for IoT devices. It has a set of so-called Global IoT Innovation Labs, with one in Houston and others coming in Geneva and Singapore. They aim to combine information technology (IT) and industrial operational technology (OT) and use IT analytics on sensor-produced OT data to operate equipment better. ABB is involved with these labs, and so an IOT alliance between the two is a logical next step.
ABB talked about the industrial IoT topic at Discover in Las Vegas in June. Now it and HPE will develop joint software-defined infrastructure products for manufacturing, utilities and transportation.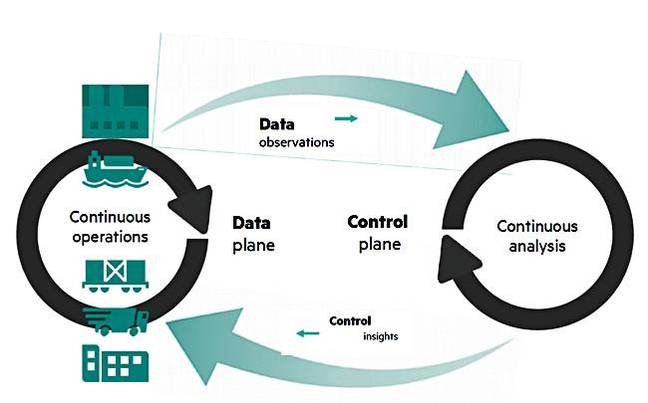 HPE and ABB IoT alliance concept
We have no detailed information about what the alliance will deliver, but it will include high-level stuff such as:
Operator involvement is a point of weakness in scaling systems,
Manual processes are a point of friction that incurs costs and impacts agility,
We should remove friction through abstraction, containerization, and automation,
An IoT service and its operation should be able to scale.
One intent is to have dynamic control of a software-defined facilities infrastructure which encompasses a software-defined data centre (compute, storage, networking and facilities) and infrastructure outside/around the data centre's IT core – the operational technology ABB part.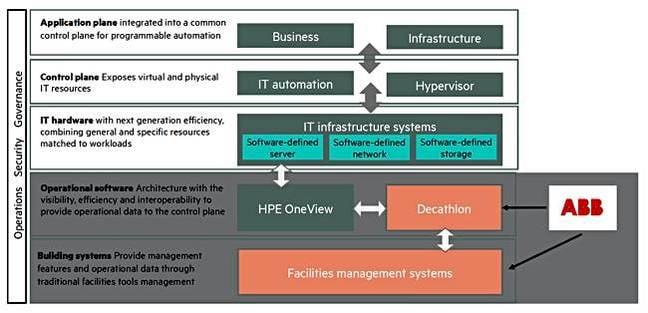 SW-defined facilities idea.
Decathlon is ABB's Data Centre Infrastructure Management (DCIM) product. The two say DCIM should become automated, for better operational management of the data centre – just another, albeit large, Internet of Things "thing".
All the boxes in the HPE-ABB PowerPoint-level abstraction layers match up and interconnect but it will take projects on the ground to iron out kinks, identify gaps and then prove or disprove the usefulness of this hybrid HPE-ABB approach in terms of increased operational efficiency, productivity and reliability.
+RegComment
The IoT area is big news with HPE rival HDS being re-organised and restructured into the IoT-focussed Vantara business earlier this year. It aims to combine operational tech from the wider Hitachi group and Lumada IoT software products with Hitachi IT gear, servers, HDS storage, and Pentaho analytics.
Dell also has a major focus on IOT and edge computing.
It has signed a multi-year agreement with GE, has set up a new IOT business unit and is proliferating projects in the area.
Huawei has an IoT focus: with smart cities being one of the areas involved.
Cisco, relatively speaking, is behind the curve here. It has made some IoT moves, but lacks the analytics capabilities of Dell, HPE and Vantara, and also IoT gateway-focused servers such as those from Dell and HPE.
In theory it could make IoT edge servers from its E-Series of blade servers for ISR routers and remote offices/branch offices (ROBO) – for what is an IoT gate but a kind of specialised ROBO server?
IBM and NetApp are more involved in IoT core processing, with Watson-based analytics from IBM, and storage from NetApp
IOT data pipeline
All the big IT system suppliers look at IOT as having a multi-stage pipeline for data processing:
Static and mobile operational technology machines fitted with sensors,
Real-time device controllers using the sensor data to drive the machines in real-time,
Edge gateways/compute devices for local processing,
Networked transmission to IOT core for analytics, longer-term control and long-eterm storage.
There has to be IoT edge-level processing to aggregate and do local device data processing because (a) there is too much raw data to send to the cloud and (b) there is too little time for a remote cloud to analyse the data and come up with control inputs in the time needed before devices become inefficient, or worse.
Only system manufacturers with significant server businesses can realistically enter the edge device processing area. That means Dell, HPE, Huawei and Vantara, and also Cisco (potentially) have an advantage over IBM and NetApp.
With their latest move, HPE and ABB have put more OT/IT iron in the IoT fire, hoping to smooth their passage to big revenue bucks by covering as many stages in the pipeline as possible. ®