Analysis With OneSphere, HPE has attempted to take a multi-silo, on-premises, hybrid and public cloud pain in the proverbial and "fix it" through one pane of glass.
It claims to provide a control plane covering on-premises/private cloud and the public cloud for the building, deployment, movement and management of traditional, virtualised and containerised workloads.
OneSphere comes as a SaaS pay-as-you-go service and aims to present your IT estate as a single virtual resource pool with support for DevOps folk, IT bean counters and line-of-business staff.
The seed for OneSphere was planted with HPE's OneView, a management and automation facility with a single pane of glass for on-premises servers, storage and networking. HPE has extended that to cover the hybrid IT world, embracing public and private clouds.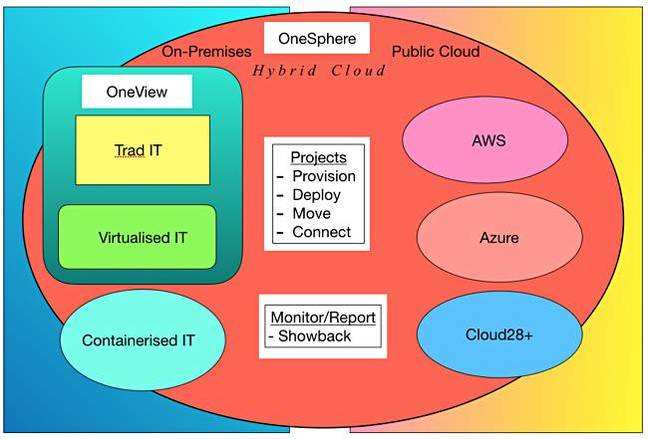 HPE OneSphere concept
OneSphere is built on a modern architecture using container-based services and Kubernetes orchestration all running in a cloud.
It is API-driven and can be integrated into a customer's environment. Workloads can be moved between on-premises and public cloud locations.
The wider and deeper OneSphere's coverage, the better. The devil is in the details and these are scant right now:
Support for the public clouds AWS, Azure, GCP and Cloud28+
On-premises systems supported:

Servers – ProLiants with bare-metal servers supported
Hyperconverged systems – SimpliVity and Synergy
Hypervisors – vSphere obviously
Container environments – Docker Hub, Kubernetes or private repositories
OneSphere will launch first with AWS but later in calendar Q1 we'll see Azure and the Google Cloud Platform. In the on-premises arena it will be adding support for Open Stack, Azure Stack and other stacks.
To add a public cloud to OneSphere, a user provides account credentials and a bucket for the cost data, and the public cloud is available for developer use a few minutes later, with billing and utilisation metrics being collected.
SimpliVity and Synergy
Right, HPE. You've eaten your hyperconverged Simplivity breakfast. Will it blend?
READ MORE
A OneSphere demo had a SimpliVity system, described as a VM farm, and showing it being connected to OneSphere. The existing VM deployments, templates, and networks were then automatically discovered and made ready for consumption through a self-service portal.
It also supports HPE's composable infrastructure product, Synergy, with a claimed completely automate deployment of private cloud platforms. An admin person specifies the geographic location of the HW and a virtual gateway is deployed on-premises to provide a link between the on-premises composable infrastructure and the SaaS platform.
Bare-metal servers can be "composed" into a private cloud running VMware, and made available as a zone in a private cloud for self-service consumption.
Projects
OneSphere has built-in, role-based, collaboration Project workspaces designed for three types of users: IT operations, business users and "consumers" of IT.
Consumers refers to developers, data scientists and researchers. OneSphere admins can give consumer user teams their own multi-tenant, self-service portal.
Bryan Jacquot, an HPE Enterprise Architect, said: "Using the OneSphere catalog, they can self-service provision a multi-master, highly available Kubernetes cluster for running their containers in minutes, in whatever region, either on-premises or in a public cloud, and in whatever size."
OneSphere can roll up private and public cloud costs, broken down by cloud provider, projects and custom tags, for lines of business, making their opex easier to manage.
It's supported by a PointNext suite of advisory and consumption services, including Flex Capacity services to turn on-premises IT into a cloud-like, pay-for-use consumption model.
Ric Lewis, senior veep and GM for software defined and cloud group at HPE, told The Reg: "Many customers are surprised at the end of the month about their cloud bill.
"We are making that visible, [showing them] what is the utilisation and what is the cost".
The service is launching in the UK, US and Ireland in January, although, as with the giant's Greenlake announcement yesterday, pricing was not available. Beta customers include Dreamwork Animation, Hudson Alpha and Opteo Data, Lewis told us.
The alternatives on the market include DIY private clouds built by enterprises themselves, they would "stitch together" their own cloud but it took months to spin up and was costly to maintain, he said. The competitive alternatives from other tech companies are "either treating on and off premises separately or they don't address on-premises [management] at all," he added.
Interestingly, on-premises customers will need to be big enough for HPE to support. It appears the firm is talking large enterprises or government customers here – so it may be that HPE says no to customers that aren't big enough, although it would not specify the starting base.
+RegComment
Modern IT is in danger of becoming a multi-cloud, containerised, virtualised, budget-destroying chaos, and HPE positions OneSphere as the way to bring all this under control through one pane of glass.
It is HPE's attempt to provide hybrid cloud control to CIO staff, managed and slick facilities for developers, and OPEX-control to LOBs, all in one package.
Multi-cloud management has already been offered by VMware, RightScale, BMC, CloudCheckr and Navisite. How do they compare?
VMware
VMware says its "Cross-Cloud Architecture provides an easy way to run, manage, connect, and secure apps across clouds and devices in a common operating environment."
The vRealize Suite with networking capabilities from NSX can be used to manage multiple private and public clouds. Users can can build and run applications on, and migrate them across, multiple clouds, securely connecting all clouds and managing all workloads across networks.
It says it "will soon enable IT teams to manage any cloud and any application or workload using VMware Cross-Cloud Services, a SaaS-based set of management and network offerings."
VMware's public cloud coverage is pretty much limited to AWS and the IBM Cloud, having just refused to support its technology on Azure.
It has no ready-prepared features such as OneSphere's projects or the differing facilities for CIO-level, developer and line of business level users, or a pay-per-use approach.
RightScale
RightScale Cloud Portfolio Management (CPM) won't have the deep integration into SimpliVity and Synergy that OneSphere can claim, but it has a wider public cloud coverage and includes vSphere. SimpliVity systems with a vSphere plug-in should be accessible to RightScale.
CPM has Self-Service, Cloud Management, and Cloud Analytics facilities. The self service is for three types of user; developers, application teams, and business users, which are similar to the three OneSphere user types.
There are server templates or blueprints, which are used to move applications fro one cloud to another by provisioning a target server identical to the source one and using scripts to install and configure the software components of an app.
It supports role-based access and compliance regulations, and can export usage and cost reports.
RightScale does not have OneSphere's Projects feature and has no pay-for-use capability.
BMC, CloudCheckr and Navisite
BMC has a set of products looking at different aspects of multi-cloud management. For example, BMC Discovery for Multi-Cloud provides visibility into multi-cloud environments. TrueSight Cloud Cost Control does the costing, True Sight Capacity Optimisation looks after capacity, and Control-M orchestrates workloads in different clouds.
Effectively there are different products and there is no single pane of glass, no project equivalents, only consulting services for workload migration, no focus on three different classes of user and no pay-for-use facility.
CloudCheckr and Navisite have multi-cloud management products that are more focussed on public clouds than hybrid ones, and gave separate products for different aspects of multi-cloud operation. They are not in the same product class as RightScale's CPM or OneSphere. ®
Similar topics