This article is more than 1 year old
Unfit to plead before a US court? You may face 'indefinite detention'
US.gov argues in favour of extraditing accused Brit hacker Lauri Love
Accused Brit hacker Lauri Love may be held in indefinite detention in an American prison if US courts find him unfit to enter a plea, the High Court in London was told this afternoon.
Love is accused by American prosecutors of hacking into the servers of a variety of US government agencies, including systems used by the US Federal Reserve, the Missile Defense Agency, NASA, the FBI, the US Army, and healthcare companies. Staff records and credit card details were accessed by Love between 2012 and 2013, it has been claimed.
US prosecutors, who intend pursuing Love in three separate cases across three US states, formally requested his extradition from the UK to the Land of the Free in June 2015. Key to the case is the so-called forum bar, which is supposed to halt extraditions from the UK if the charges can be answered in a British court.
Following Love's point that extraditing him would put him at severe risk of committing suicide, as argued by his barrister, Edward Fitzgerald QC, the lawyer for the US government addressed the Administrative Court this afternoon.
In a tightly considered overview of the forum bar – section 83A of the Extradition Act 2003 – Peter Caldwell QC of Drystone Chambers, appearing for the Crown Prosecution Service on behalf of the US government, argued that Love's "connections" to the UK, as legally defined, ought to be interpreted narrowly and restricted to citizenship and length of residence in Britain.
"The chain brought about by the forum bar under 83A is to remove much of those considerations, so the court is not invited to consider policy generally. It is a narrow basis for consideration, it is more precisely defined," Caldwell asserted, adding that evidence "necessary to prove the offence", as defined in law, would be too difficult to move from the US to the UK, thereby making a trial over here impractical.
"Why," enquired one of the two judges, Sir Ian Burnett, the Lord Chief Justice of England and Wales, "is it, in your submission, necessary to read the word 'necessary' as narrowly as that? There's nothing in the act, is there?"
"No," said Caldwell.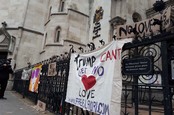 Lauri Love appeal: 'If he's dead, no victim's going to get anything'
READ MORE
"Nothing in the explanatory notes?" asked the most senior judge of the High Court.
"Nothing to assist, my lord," replied the CPS's barrister.
"Let's turn this on its head," said the Lord Chief Justice. "It's not uncommon for UK citizens who, just through circumstance, have few if any relations in this country." If, said Burnett, all of Love's family lived in France, "wouldn't that be a factor to be relied upon?"
His fellow judge, Mr Justice Ouseley, concurred, pointing out that "those [relevant matters] in particular are the family support in relation to [Love]". One major plank of Love's appeal is that if he was removed from the support of his family, he would be at a greatly increased risk of a decline in mental health that would leave him either suicidal or medically unfit to enter a plea.
If you did the crime there, you should answer the charges there
Caldwell said that the fact that Love's alleged crimes occurred in America was a strong item in favour of his extradition, arguing that the place "where most loss or harm occurred was the United States".
"Not only were all of the agencies that were the subject of hacking based there, but those individuals who had their data not merely accessed but removed – this, in terms of the evaluation of harm, is not merely a denial of service, but an obstruction of the utility of the computer service, it is a removal in the sense of theft of the data. A more serious countenance, we would submit," Caldwell asserted.
Adding that justice should be "administered locally" to Love's alleged victims, Caldwell argued that section 83A(3)(b) of the Extradition Act should be interpreted to mean that it would be too difficult for American victims of a crime that occurred in America to give evidence in a British court. He added that, under subsection (3)(e) of the same act, Love's barrister's characterisation that moving the evidence from the US to the UK was a straightforward task "would be to seriously understate what is ordinarily required in a prosecution of a cyber security offence".
Both judges questioned Caldwell closely on his suggested narrow interpretations of the forum bar's seven key questions, found under subsection (3). Mr Justice Ouseley took this to one logical conclusion: "Is there any suggestion that after extradition [Love] might get better?"
Caldwell parried. "It is not a necessary implication of a prognosis that he will get worse such that his condition will result in being unfit to plead."
Love himself, sitting in the well of the court, frowned at this.
Ouseley persisted. "Were he extradited and subsequently found unfit to plead, what would happen, if the US courts reach the view that he was unfit to plead? Would he be returned, held in psychiatric or other care?"
Caldwell said he could not answer. Helpfully, Love's barrister, Fitzgerald, stood up and said: "Indefinite detention." Caldwell conceded to a follow-up question by Ouseley that this detention would be in America, with the judge commenting: "It's not a feature of extradition law that someone extradited for trial must be returned."
Liberty intervention
Human rights pressure group Liberty had been granted permission to intervene in the case on behalf of Love. Their barrister, Alex Baidin QC, argued that as the CPS normally acts for the foreign state requesting intervention, the British prosecution service ought to be placed under a greater burden of transparency.
"We submit that the requested person in this and other forum bar cases needs to know where he stands in relation to the prosecutor and so does the court," said Baidin, adding that the CPS "could be neutral in circumstances where it wasn't engaged and there was no investigation".
The issue was somewhat esoteric and engaged wider issues than the Love case alone, with Mr Justice Ouseley questioning Baidin on the point of prosecutorial "belief or non-belief" in whether a defendant should be tried in the UK or not. Baidin argued that if the CPS had formed a belief, it should be transparent about this belief and submit its reasons for reaching that belief to the court.
Tomorrow morning will see the appeal hearing continue at the Royal Courts of Justice, with Love's barrister responding in full to the US government's points. It is expected that the judges will reserve their full judgement until 2018, though the possibility remains that they may deliver a verdict there and then and reserve their detailed reasoning for the new year.
The case continues. ®