NHS England told to get a grip on patient records after £6.6m blunder
MPs say body has 'given up' chasing GPs to identify harm
NHS England has been slammed after more than 700,000 patient records went undelivered.
The influential House of Commons Public Accounts Committee (PAC) has said that it is "deeply unimpressed by the lack of grip" the body has on the handling of clinical correspondence, years after it started looking into the issue.
The incident came to light in February, when NHS bosses were forced to admit that, between 2011 and 2016, some 709,000 items of correspondence – including details of test results, change-of-address forms and other personal information – had been left gathering dust in a warehouse.
At the time, both the NHS Shared Business Services (SBS) – a joint venture with Steria that was in charge of ensuring these records were properly delivered – and senior management were blamed.
The PAC has today issued a damning report, saying that NHS SBS had failed both patients and GPs, while the Department of Health and NHS England had "failed in their oversight".
This meant that the DH missed opportunities to identify issues at NHS SBS, and the MPs noted that the department didn't take up two of the three seats it was entitled to on the SBS board or heed concerns raised in the Commons about its performance back in 2011.
Meanwhile, NHS England "failed to appreciate the seriousness of misdirected correspondence", indicated by the fact it didn't use proper redelivery as a measure to assess NHS SBS's performance.
Even when a potential issue was identified and a new policy brought into play, in 2015, the PAC said NHS England never checked to see if it was being followed.
The committee was also heavily unimpressed with NHS England's efforts to assess whether any any patients were harmed by the error, in which it asked GPs to assess whether there was the potential for harm.
The PAC noted that NHS England is still unable to confirm that no patients were harmed by the error – the results of the full review are not due until March 2018 – and said it had "given up" on chasing GPs for answers.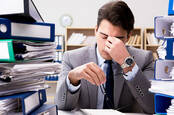 NHS: Remember those patient records we didn't deliver? Well, we found another 162,000
READ MORE
"NHS England has given up trying to find out from GPs whether patients may have been harmed by the delay," the report stated.
"NHS England has written to GPs who have not reviewed clinical correspondence about their patients to inform them that it is assuming that they have completed their review and have not identified any patient harm."
The MPs said this wasn't good enough, and called on NHS England to get positive assurance from all GPs that they have completed their checks – and then pass on the results of this review to the committee by March 31.
The 7,330 practices were paid £2.5m to cover the cost of the time GPs spent on the work, and attempts to resolve the situation has cost £6.6m to date.
However, the total cost is as yet unknown, partly because a further 162,000 undelivered records were discovered during the course of the investigation.
That particular revelation was made by NHS England chief exec Simon Stevens at a PAC hearing last month – something the committee was less than thrilled about, which it makes abundantly clear in today's report.
"We were deeply unimpressed by the lack of grip NHS England still has on the handling of clinical correspondence, and dismayed to be informed of a further backlog of 162,000 items which need to be assessed," the MPs wrote.
"Our evidence session was frustrated by the late provision of additional information by the NHS England chief executive. It would have been more helpful if this information had been supplied in time to allow members to consider it."
The PAC said that NHS England must set out how it can be sure that all unprocessed records have been identified by December 31, as well as detailing how it will ensure correspondence is correctly processed and redirected in future. ®