FlashBlade runner Pure charges NetApp's legacy filer fortress
Third quarter brings positive cash flow for first time
---
Analysis Pure Storage had a great growth quarter and sees itself taking on NetApp filers with its unstructured data FlashBlade product.
The company reported $278m in FY 2018 third-quarter revenues, which was a 41 per cent year-over-year increase and beat the midpoint of Pure's estimated revenue range for the quarter of $271m. It was 23.7 per cent higher than second-quarter revenues of $224.5m. Pure's revenue growth curve is quite steep.
There was a GAAP net loss of $41.6m, the lowest in 11 quarters. It was -$78.8m a year ago and -$61.7m in the second 2017 quarter.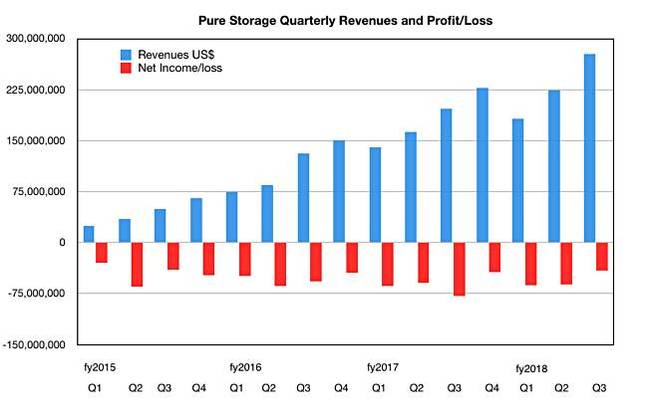 Is the revenue growth curve steepening?
There were 300 new customers in the quarter, taking its total past 4,000 and up 54 percent from a year ago. Cloud service providers represented more than a quarter of its business, and 70 per cent of the quarter's business was repeat orders from existing customers.
In the earnings call CEO Charles Giancarlo said: "We finished the quarter with a positive free cash flow and grew our cash balance by $28m. As we look ahead, we remain on track to deliver our first $1bn in annual revenue and our first profitable quarter."
There are three growth areas: "One, growing our roster of cloud customers; two, cementing our lead as the core data infrastructure for next-generation applications, like artificial intelligence, machine learning and analytics; and three, expanding our footprint in the world's largest enterprises and government organizations.
"FlashArray has had a great quarter and continues to deliver record results, in part due to the introduction of FlashArray//X and the new features we announced at our last user conference. FlashBlade launched earlier this year continues to grow faster than FlashArray did in its first full year and while it is now somewhat off its early 2x pace, it remains on a very strong growth trajectory."
FlashBlade
Oh, so FlashBlade growth is slowing. We don't know if this is significant. There was an $80m revenue expectation for the full year. Answering a question, Giancarlo said: "We are very pleased still with the FlashBlade growth and it continues to be much faster than FlashArray in its first full year relative to the $80m, and this will probably be the last time I talk about that, we're in the ballpark."
Sounds like it could be less than $80m.
President David Hatfield talked some more about FlashBlade markets: "There's two distinct markets for FlashBlade as we're getting more stick time with it. First is the next-gen AI, machine learning and real-time analytic segment. That is a great fit and completely differentiated from anything else in the market in that world.
"I think the second area is the replacement of legacy IT and this is going after the NAS in the object stores that are out there. And this is actually taking the fight to NetApp where we really haven't focused in their file-based world and it is a first generation product."
Competing with mature storage tech requires more data management features.
"And so you're going to have years of features that we're going to build out to be able to hit more and more of that addressable market. But we're having great success in both of those categories today."
Headcount and profitability
CFO Tim Ritters said: "Total headcount at the end of Q3 was up over 2,000, up from over 1,900 at the end of Q2 and up from over 1,650 a year prior, largely reflecting ongoing hiring in both our sales and R&D organizations."
Positive cash flow was achieved. "We finished the October quarter with cash and investments of $551m, which is a $28m addition to our overall cash position from the previous quarter and represents the first Q3 of positive cash flow generation in the company's history. We look forward to another quarter of free cash flow generation in Q4."
Looking further ahead, Pure is thinking about achieving a $2bn annual revenue run rate in 2021.
tl;dr
Pure had a stonking quarter. Positive cash was achieved meaning profitability is in sight. FlashBlade growth slowed a little but prospects are good and Pure sees FlashBlade increasingly taking on existing NetApp ONTAP business as it adds data management features.
Fourth-quarter revenue guidance is between $327m and $335m. That's $331m at the midpoint; a 45 per cent y-o-y increase. Full 2017 year guidance is now $1.012bn to $1.020bn. ®