Scotland, now is your time… to launch Brexit Britain into SPAAAACE!
House of Lords members make push for Scottish spaceports
During a third reading of the draft bill for space industries at the House of Lords yesterday, peers debated limiting the British government's power and also plumped for Scotland as the venue for a UK spaceport.
As part of the government's 2020 space push, the bill is designed to give legal certainty to industry so it can launch spaceships into orbit and sub-orbit from UK spaceports.
"The UK space industry is a British success story – a story of invention, innovation and global ambition," Parliamentary Under-Secretary of State, Department for Transport, Baroness Sugg said. "The Bill will take us further, enabling new satellite launch services and low-gravity spaceflight from UK spaceports, and supporting our industrial strategy to deliver a stronger economy that works for everyone."
Using the Outer Space Act 1986, the Secretary of State has the power to license UK space activities – however, it is focused on making sure the UK fulfils its obligations under the UN space treaties, says UK.gov, which proposes that the new bill regulates potential commercial space activities on British soil.
The Space Industry Bill, introduced on June 27, currently includes regulation and licensing for activities in the UK such as "the operation of spaceports, mission management facilities and range control functions and sites."
For example, the draft makes "the carrying on of spaceflight and specified associated activities without a licence" an offence. Good to know.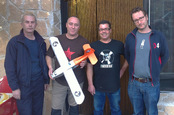 PARIS soars to Guinness World Record
READ MORE
During the closing remarks, peers – who would have us believe they live near an airport runway – pitched their bids for Scottish spaceports.
Lord Moynihan said: "The House should be under no illusion whatever that that location is Prestwick ​Airport. It is head and shoulders the best airport to be licensed for spacecraft activities at the earliest possible stage in this country."
Lord Lang of Monkton agreed. "Like my noble friend Lord Moynihan, I live quite close to Prestwick Airport – almost as close as he does, but on the other side of the runway."
Lang added that it "is a fine, well-established airport of long standing".
He also pointed out: "The fact remains that the Scottish economy is trailing that of the rest of the United Kingdom, for reasons that I will not indulge in, for political reasons."
He said: "The Government made a commitment in their manifesto at the last election to invest in Scotland. This is an opportunity to do so."
The government wants a spaceport soon.
Baroness Chisholm of Owlpen had to jump in after that. "My Lord, this is not a Third Reading speech. You are meant to just quickly say thank you and then we will move on," Chisholm said.
The draft bill now goes to the House of Commons for debate. ®