This article is more than 1 year old
We go live to the Uber-Waymo court battle... You are not going to believe this. The judge certainly doesn't
Down a deep rabbit hole of alleged theft of secrets
Uber caught one of its employees trying to steal documents and save them to his personal computer. He resigned.
And then Uber paid him $2m. And hired him back for a year as a consultant for $1m, offering a $1.5m end-of-contract payoff. And paid his lawyer $3m.
If that sounds highly improbable to you, you are not alone. Judge William Alsup was equally surprised at a hearing Wednesday morning in San Francisco.
But that's not all.
The employee – security analyst Richard Jacobs – sent a resignation email. The email was titled "Criminal and unethical activities in security" and it detailed a series of allegations about a secretive internal Uber unit, including that it was responsible for stealing trade secrets from competitors and that it had been coached in how to avoid detection.
Jacobs explicitly referenced competitor Waymo in the letter. Which is relevant because Google-stablemate Waymo is suing Uber for… stealing trade secrets.
That resignation email was seen by seven Uber board members, including then-CEO Travis Kalanick, the court heard. But even though the letter included the name of competitor Waymo, it was not disclosed to Waymo lawyers until last week, after the US Attorney of northern California looking into possible criminal conduct informed Judge Alsup of its existence.
How does Uber square this extraordinary series of events? It's quite simple: Jacobs was trying to extort Uber. He was caught trying to steal information and so sent the resignation email as a way of forcing a settlement. Which, er, worked?
Try again
Hang on, that's not right. "He was stealing those documents in order to be a whistleblower," explained Uber deputy general counsel Angela Padilla. And his claims in the resignation letter were made up.
"So he's an extortionist, and his claims were meritless, but you hired him again for a year… to help investigate his own allegations?" asked Alsup incredulously. "How many extortionate ex-employees has Uber then rehired as consultants?"
Anyway, importantly, it was Uber that told the US Attorney about the resignation letter, not Jacobs. Why? According to Padilla, because Jacobs threatened to share the letter. There's the extortion, see? So Uber did the responsible thing and decided to undercut him by providing it to the US government first. Even though nothing in it is true.
Padilla told the court that the allegations in the letter are nothing but exaggerations from a disgruntled ex-employee. Nothing to see here. Which is why she took it to the board and discussed it with the CEO.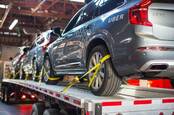 Uber hack coverup: Your next US state lawsuit arrives in four minutes
READ MORE
And even though it explicitly mentioned Waymo and suggested that Uber had stolen trade secrets from Waymo, Uber didn't supply the letter to Waymo – which is suing Uber for stealing trade secrets – because…?
Because, Padilla said, Waymo's lawyers didn't include the word "Waymo" in their discovery search terms.
Judge Alsup wasn't too keen on these unusual explanations either: "It sure looks like you covered this up, refused to turn the Jacobs letter over to your in-house counsel handling the Waymo case, dismissed the letter here as a bunch of BS, and then hired Mr Jacobs and paid him $4.5 million."
It sure does.
Money, money, money
What about that $3m paid to Jacobs' lawyer? Legal services. Nothing suspicious.
Alsup's not too sure about that either, and told Waymo's lawyers that they could subpoena the law firm "and find out many hours they billed, because a three million dollar payoff for writing a single letter is unconscionable."
Also, there was nothing wrong or unusual with Uber's security team using the Wickr messaging system – that automatically deletes posts – outside the normal company system. And nothing peculiar about the fact that when the new CEO of Uber arrived following Travis Kalanick's ousting, the Wickr installation was ordered shutdown.
Nothing odd in any of this. But just in case, Judge Alsup has delayed the trial and ordered a new round of discovery to uncover relevant messages and documents relevant to Waymo's fight against Uber. "I am going to wreck the holiday of all you lawyers, but you get paid too much money, I don't feel bad," he told the assembled suits.
He also provided some new trial dates: jury selection on January 31, and the trial to start on February 5. ®
Bootnote
Uber reportedly lost $1.46bn in its third quarter of 2017. Oops.
Special thanks to Kate Conger and Austin McKinley for this live tweeting coverage of this morning's insanity.