Why does no one want to invest in full fibre broadband, wails UK.gov
Ministry of Fun launches network infrastructure review, extends basic broadband subsidy scheme
---
The UK government has launched a review to figure out what's holding back investment in "full fibre" and 5G networks and how policies could help the telco market.
The Future Telecoms Infrastructure Review is part of efforts to push fibre-to-the-premises (FTTP) and 5G networks in the UK, and follows last week's Budget investment of almost a billion in the tech.
According to the Department for Digital, Media, Culture and Sport, the UK is an "international leader" in provision of copper-based super-fast broadband.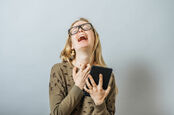 BT boss: Yeah, making a business case for 5G is hard
READ MORE
But it is playing catch up on FTTP - the nation was ranked the third-worst country in Europe in a recent analysis, with coverage being just 1.8 per cent.
The review, which is due to report in summer 2018, is just one of many consultations and assessments of networks across the UK.
This one's terms of reference (PDF) say it will to look at the telecoms market to understand why companies would fork out on new digital infrastructure and what barriers are stopping them from doing that.
It will also look at how incentives differ across the UK and different parts of the market, and ask what policy interventions would be useful.
These might be to encourage greater competition (we think they're looking at you, Openreach) or making changes in relative risks, while trying to ensure a "stable environment for investment".
Meanwhile, several of the UK's telco operators have admitted they can't really justify spending the money on on 5G, with both EE and its competitor Three accused of actively holding up the UK's shift to the technology, after both launched legal challenges against Ofcom over the terms of its forthcoming spectrum auction.
DCMS said the review would take evidence from industry and academia, as well as including economic analyses and international comparisons.
It will also consider Ofcom's initiatives to boost competition, and the government's existing plans, which include cash for 5G test beds, the Digital Infrastructure Investment Fund and business rates relief for fibre networks.
Responding to the launch of the review, Alex Neill, MD for home products and services at consumer rights group Which?, pointed to poor broadband across the country.
"We have found that the majority of households have experienced a problem with their broadband in the last year and that there are clear issues with mobile coverage and connectivity right across the UK," he said.
"As such, the Government must ensure this vital review delivers the services that people pay for and need."
Meanwhile, DCMS has also said it is extending its subsidy scheme for homes with broadband speeds of less than 2Mbps to the end of next year.
The Better Broadband scheme offers people up to £350 to help them access basic broadband services, by contributing to installation and hardware costs.
It was meant to finish at the end of this year, but will now run to the end of 2018. ®