This article is more than 1 year old
Want a new HDMI cable? No? Bad luck. You'll need one for HDMI 2.1
New spec hits 48Gbps and can carry 8K HDR videos
The HDMI forum has released the HDMI 2.1 spec, and promised it can deliver 48Gbps if you buy new cables that support the jump from HDMI 2.0s 18Gbps.
But while the organisation has probably delighted gamers and 8K video watchers with that headline number, they'll have to wait until deep into 2018 to get their hands on kit that employes the new spec.
If you're sceptical that a mere TV needs bandwidth that over Ethernet would be suitable for a data centre, think again: the HDMI Forum explained uncompressed 8K high dynamic range (HDR) video is dependent on the boosted bandwidth.
At 4K and 12 bits per colour channel, the spec supports 120 frames/second refresh rates, or 60 fps at 8K at a lower dynamic range, with chroma subsampling.
The HDMI 2.1 cable spec remains backwards-compatible with HDMI 2.0, for some reason (El Reg is wondering how many people buy the new cable before they've also bought the new TV and a suitable content source).
The forum's table below shows HDMI feature support across all versions.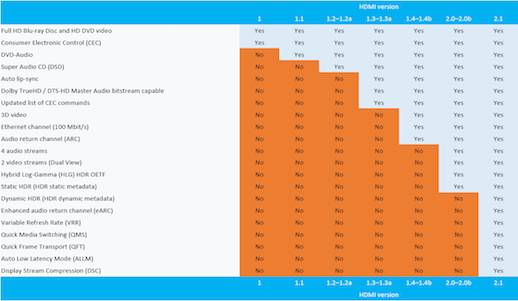 HDMI Forum feature comparison, click to embiggen
For gamers, there's a variable refresh rate (VRR) feature, designed to cut lag, stutter and frame tearing; and quick frame transport (QFT) for lower latency. Quick media switching (QMS) should get rid of that brief black screen when switching content.
During the first three quarters of 2018, the HDMI Forum will roll out its compliance test specification, so if vendors are ready ahead of time, products should be ready for Q4 2018. ®